With more than 350 species in the world and the variants in sizes, there are still only less than 20 types of parrots that can be kept as pets. This is because not every type of parrot has been domesticated.
Parrots are intelligent and like to interact with people and many are affectionate and cuddly with people they trust. They come in many different sizes, varying from very small to large — in this article, we defined the sizes as the following:
Very small: 3 – 5 inches
Small: 5 – 9 inches
Medium: 9 – 16 inches
Large: 16 – 32 inches
Read on to understand parrots and find out which parrot will suit you and your household better. We've also prepared some care tips to guide first time parrot owners!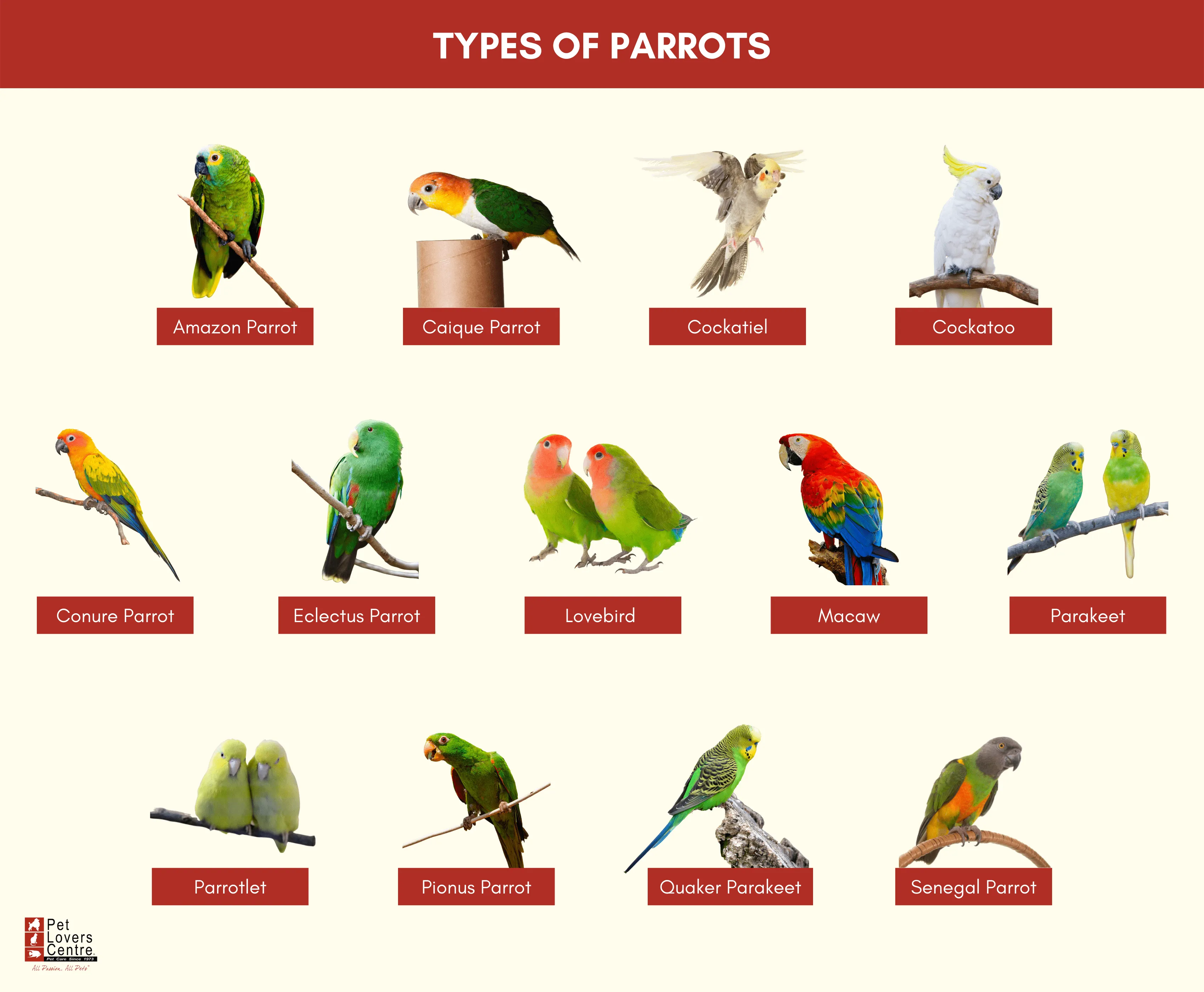 1. Amazon Parrot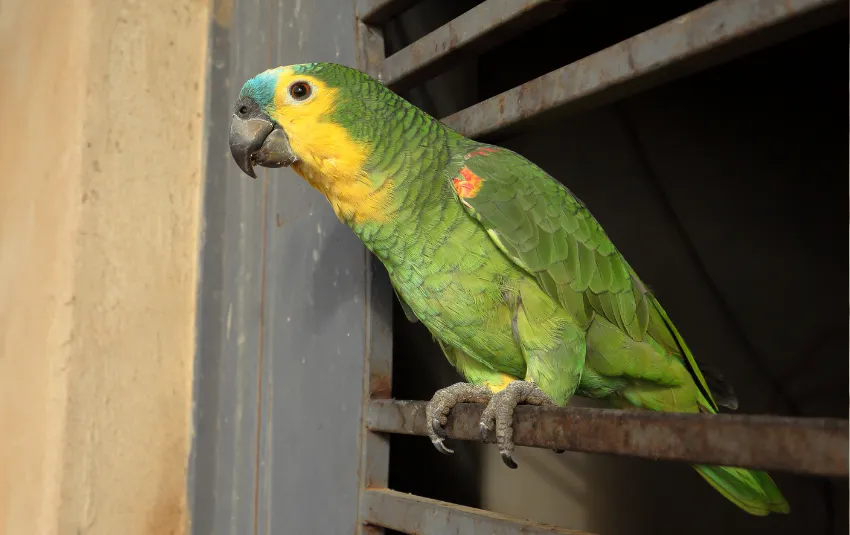 Vocal expressiveness
Loudness
Ability to speak human language
Ability to learn tricks
Amazon parrots are boisterous, playful, outgoing and renowned for talking. They adapt easily to their surroundings, but will need a lot of daily mental stimulation. Without proper care and attention, they may form behavioral issues.
They are great at expressing themselves using body language. They are good talkers and like music and singing, though they can be noisy when they don't get the attention they need. Amazons can also coexist with other pets as long as they are introduced carefully!
Size
Medium
10 - 20 inches
Weight
1 - 2 pounds
Life expectancy
15 - 20 years
Personality traits
Curious, athletic, affectionate
Physical characteristics
Green body marked with bright head feather colors such as red, lilac, yellow, purple and blue

Short tails and round wings


Fun fact!
Amazons like to chew, so you can provide them with toys to keep them happy!

2. Caique Parrot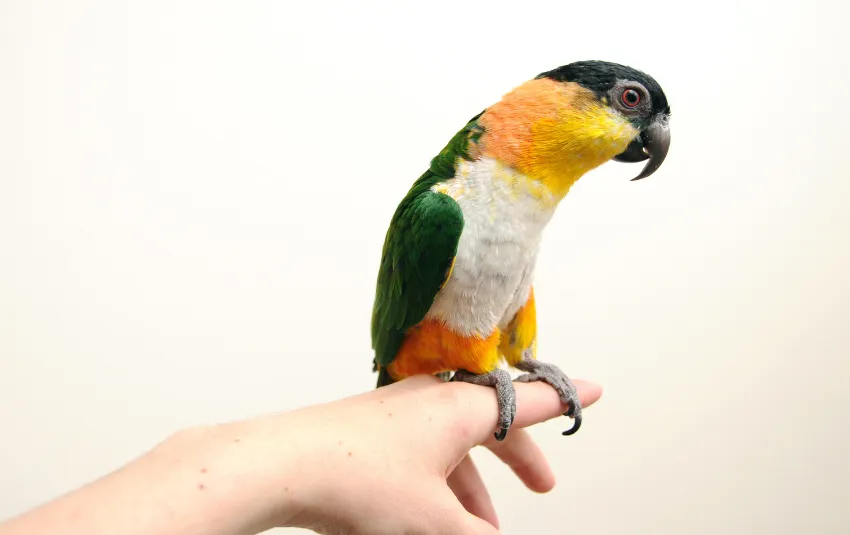 Vocal expressiveness
Loudness
Ability to speak human language
Ability to learn tricks
Caique parrots form strong bonds with their humans — they're affectionate and enjoy playing or just lounging with them. They're playful, curious, and love walking on the floor more than flying.
They don't talk as well as Amazons, but they sing, whistle and can even mimic environmental sounds!
Size
Small
9 - 10 inches

Weight
5 - 6 ounces
Life expectancy
25 - 40 years
Personality traits
Mischievous, quick learners, energetic
Physical characteristics
Black-headed, white-bellied, green tail feathers and yellow thigh feathers

Hinged upper beak


Fun fact!
Caiques are called dancing parrots as they like to hop forward and backwards while bobbing their heads!

3. Cockatiel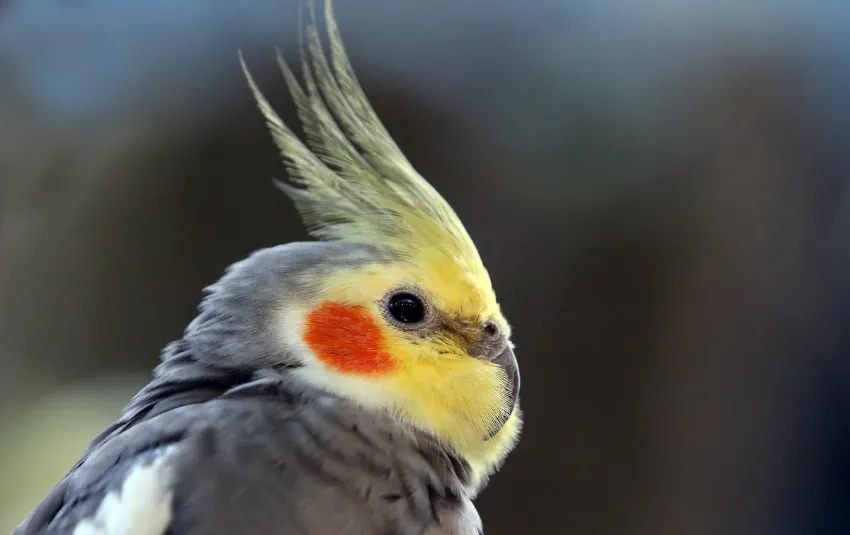 Vocal expressiveness
Loudness
Ability to speak human language
Ability to learn tricks
Cockatiels are smaller in size as compared to other parrots. They like to be petted and are satisfied as long as they are near you. They are smart, enjoy learning new tricks and like to be rewarded for good behavior.
Not every cockatiel will learn to talk, but they are best at imitating other birds. Also, to prevent your cockatiel from feeling depressed, it's best to get them a companion.
Size
Small
12 - 13 inches

Weight
2 - 4 ounces
Life expectancy
15 - 20 years
Personality traits
Gentle, affectionate, cheerful
Physical characteristics
Medium-gray body, white edges on the wings and face, yellow/white crest

Small dark eyes and long tail


Fun fact!
A cockatiel's head crest will expose its mood. A happy cockatiel's head crest will resemble a badminton shuttlecock, and flatten when they're angry.

4. Cockatoo
Vocal expressiveness
Loudness
Ability to speak human language
Ability to learn tricks
Cockatoos are spirited birds that are known as velcro birds. They love to be close to their owners at all times and find it fun to chat with them.
Cockatoos are playful, and having a variety of toys for them to play with will keep them engaged. They are also known to be the loudest of all parrots, thus are not recommended for people living in confined spaces.
Size
Medium to large
12 - 24 inches

Weight
10.5 - 40 ounces
Life expectancy
30 - 70 years
Color
White

Black

Gray

Personality traits
Excitable, cuddly, lively
Physical characteristics
Splotches of yellow, pink or red on crests and tails

Fun fact!
Cockatoos' beaks are 2 times stronger than the average strength of a human bite! They can clamp down on snacks and wooden toys easily.

5. Conure Parrot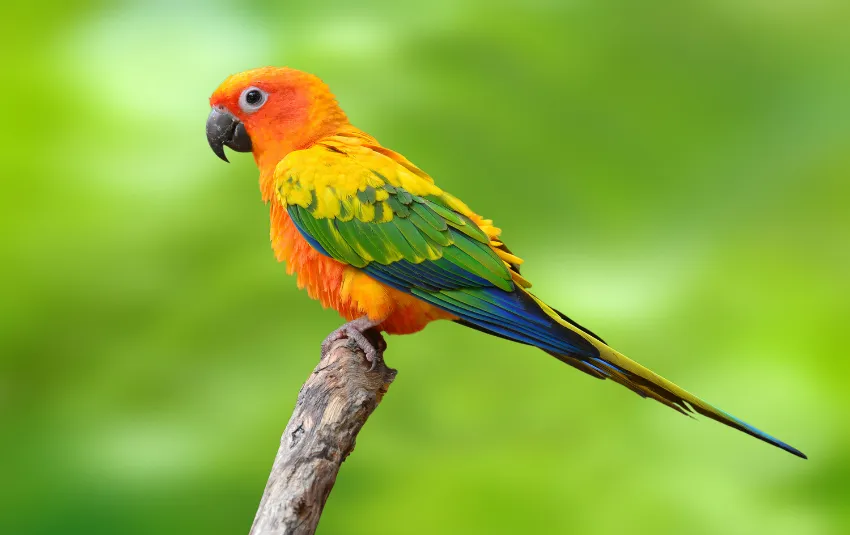 Vocal expressiveness
Loudness
Ability to speak human language
Ability to learn tricks
Conures are known for their good looks, intelligence and interaction with humans. These outgoing birds also make a good family pet and can be taught to perform tricks!
Conures may not be suitable for apartments as they can emit ear-piercing screams when they are bored or need attention. To keep them happy, you can create an environment for ample play and items that are safe to chew.
Size
Small to medium
10 - 12 inches
Weight
2.3 - 7 ounces
Life expectancy
15 - 30 years
Color
Blue

Green

Orange

Yellow

Personality traits
Playful, sociable, comical
Physical characteristics
Long tail

Fun fact!
Conures can mimic sounds such as doorbells, telephone chimes and beeping of an alarm clock.

6. Eclectus Parrot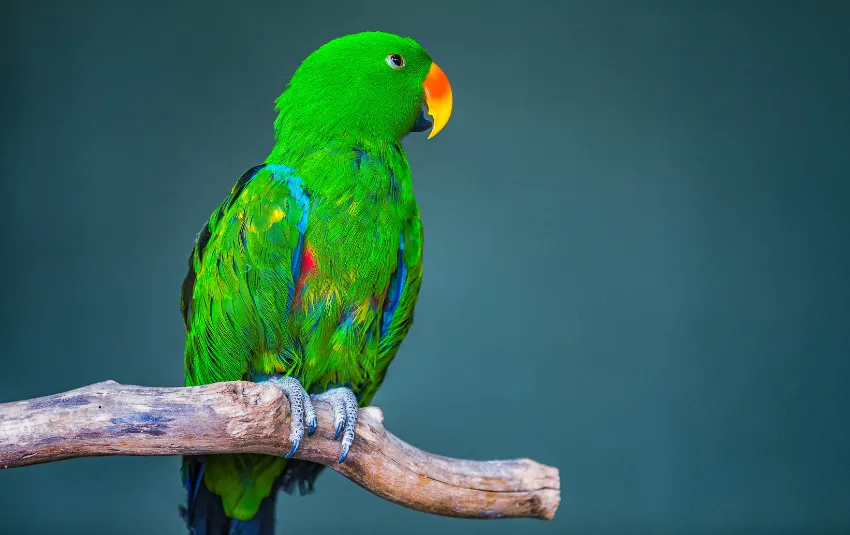 Vocal expressiveness
Loudness
Ability to speak human language
Ability to learn tricks
Eclectus parrots, like other parrots, are affectionate, and are the happiest when they are given undivided attention. This breed can learn routines of the household and are happy to be part of it.
They are vocal and easy to train to speak a variety of words. Fortunately, they are not as noisy as the Cockatoos.
Size
Medium
17 - 20 inches

Weight
13 - 18 ounces
Life expectancy
30 - 50 years
Color
Green (male)

Red (female)

Personality traits
Caring, tranquil, gentle
Physical characteristics
Fur-like feathers

Fun fact!
Male eclectus parrots are bright green in color and have orange beaks, whereas female eclectus parrots are bright red in color!

7. Lovebird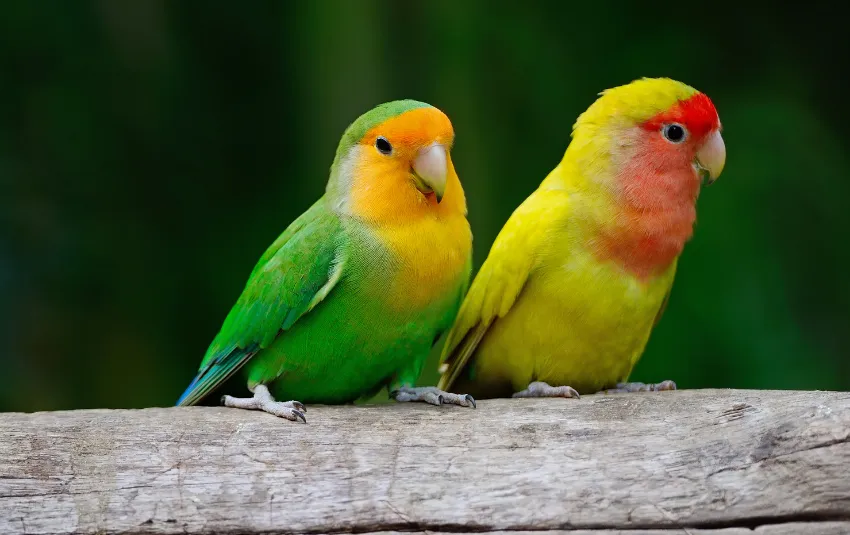 Vocal expressiveness
Loudness
Ability to speak human language
Ability to learn tricks
Lovebirds have big personalities. They are active and will need to be provided with bird-safe places to play outside of their cages daily. They can be taught tricks such as spinning, waving and ringing bells!
Lovebirds adore attention and when neglected, they may even refuse to let you handle them. If you like to hear birds singing and whistling all day, this breed might just be the parrot you're looking for.
Size
Small
5 - 6.5 inches

Weight
1.5 - 2 ounces
Life expectancy
Up to 20 years
Color
Peached-faced

Combination of green, yellow, and orange

Black-faced

Violet

Red and dark orange

Personality traits
Bold, inquisitive, feisty
Physical characteristics
Short tail, rounded beak

Fun fact!
Lovebirds feed their partners when they meet after a long separation to show affection!

8. Macaw
Vocal expressiveness
Loudness
Ability to speak human language
Ability to learn tricks
Macaws are huge, beautiful and brightly colored and are known as gentle giants in the parrot world. They are one of the most intelligent parrot species, and can solve difficult puzzles easily. They need social interaction with birds or humans and may cause destruction around the house without it.
Macaws make great pets though they are high-maintenance and are prone to boredom and loneliness. They can be loud and are known to make ear-piercing noises for at least 10 minutes every day!
Size
Large
20 - 42 inches

Weight
32 - 64 ounces
Life expectancy
50 - 75 years
Color
Scarlet

Green

Blue and gold

Hyacinth

Personality traits
Sweet, intelligent, hardy
Physical characteristics
Rings of skin around their eyes, long tail

Fun fact!
Macaws' beaks are strong enough to crack a coconut shell!

9. Parakeet
Vocal expressiveness
Loudness
Ability to speak human language
Ability to learn tricks
Parakeets, also known as budgies, are one of the smallest parrots kept as pets. They are known to be able to speak better than macaws and cockatoos. They can pick up sounds and human speech from their environment and create creative melodies.
Parakeets enjoy the companionship of humans and other birds. When left alone, they can become depressed and might even start plucking their own feathers.
Note: If you notice that your pet is shedding their feathers, check out this budgie moulting guide to learn more.
Size
Small to medium
7 - 14 inches
Weight
1.1 - 1.4 ounces
Life expectancy
7 - 15 years
Color
White-based: sky blue, cobalt, mauve, gray, violet, white

Yellow-based: light-green, dark-green, gray-green, olive, yellow

Personality traits
Docile, active, social
Physical characteristics
Long, tapered tail feathers

Fun fact!
Parakeets love to play in water; you can prepare birdbaths for them to keep them elated.

10. Parrotlet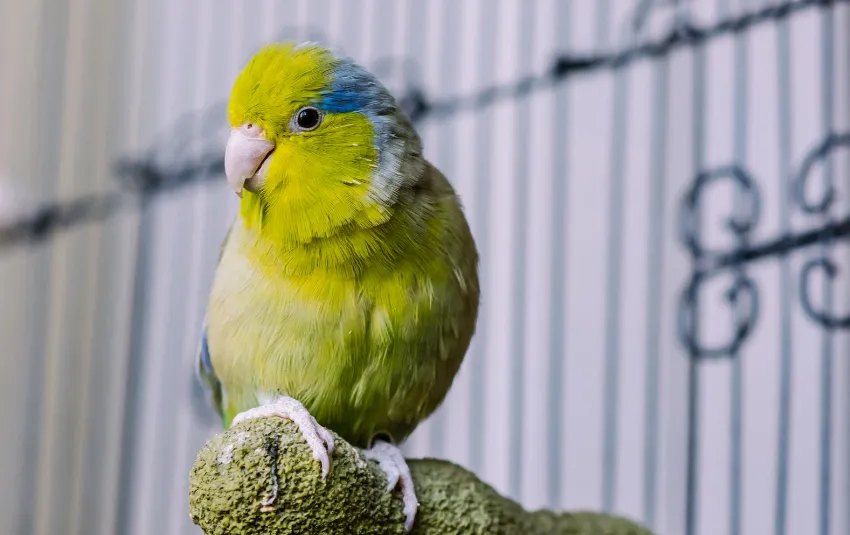 Vocal expressiveness
Loudness
Ability to speak human language
Ability to learn tricks
Parrotlets are the smallest birds of the parrot family and make excellent pets if they are tamed and raised properly. They enjoy company and are not noisy birds — suitable for families living in apartments.
Parrotlets are active birds and will require enrichment to keep them physically and mentally active. It's advised to provide toys especially if you're not around often
Size
Small
5 - 5.5 inches
Weight
1 ounce
Life expectancy
Up to 30 years
Color
Gray

Yellow

Blue

White

Green

Personality traits
Sassy, active, feisty
Physical characteristics
Short, tapered tail
11. Pionus Parrot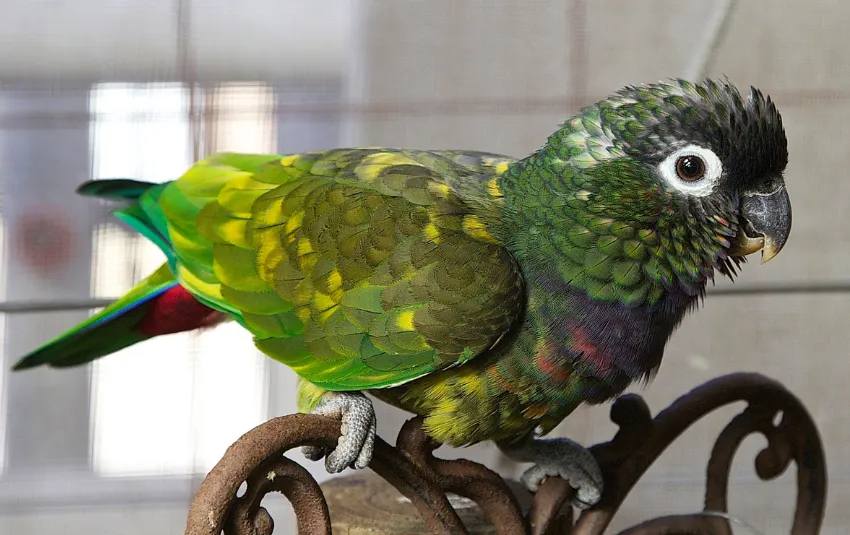 Vocal expressiveness
Loudness
Ability to speak human language
Ability to learn tricks
Pionus parrots love interacting with their human family members, and are also independent enough to entertain themselves with bird toys.
Just like most of the parrots, they need to engage in daily activities out of their cage to stay healthy. Even though they're known to be quieter parrots, they can learn to be loud if they live in noisy environments
Size
Medium
10 -12 inches
Weight
8 - 9 ounces
Life expectancy
25 - 40 years
Color
Blue-headed

White-capped

Bronze-winged

Dark brownish green

Dark colored

Personality traits
Easy-going, gentle, independent
Physical characteristics
Short, square-shaped tail
12. Quaker Parakeet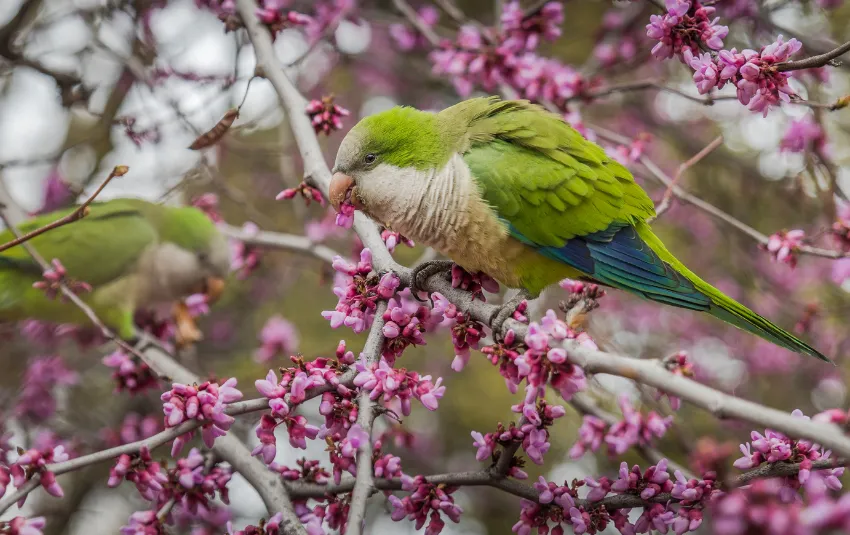 Vocal expressiveness
Loudness
Ability to speak human language
Ability to learn tricks
Quakers got their name because they shake their bodies when they are excited or irritated. They are parrots with exceptional ability to learn human speech, many vocabularies, and are able to speak with clarity.
They are social and enjoy the company of their humans or other quakers. Unlike lovebirds, even if your quakers come in pairs, with close interactions, your bond with them will not be lost. If you're looking for a talking parrot that is of medium size, quakers may fit all your requirements!
Size
Medium
11 - 12 inches
Weight
3 - 5 ounces
Life expectancy
20 - 30 years
Personality traits
Confident, social, outgoing
Physical characteristics
Lime green, blue tinge on wings, gray face, neck and chest

Fun fact!
Most parrots don't build nests; they find nests in tree cavities, caves, cliff sides, and banks. Quakers are the only parrots that build them with sticks and twigs!

13. Senegal Parrot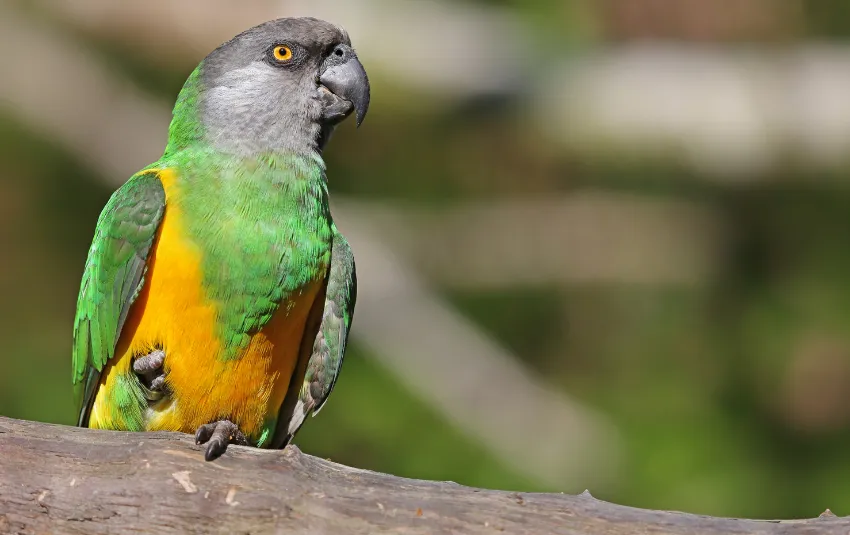 Vocal expressiveness
Loudness
Ability to speak human language
Ability to learn tricks
Senegal parrots are attached to their humans and would love to sit on their shoulders all day. They don't require the companionship of another bird as long as they receive sufficient attention from their owners.
They are not as chatty as other species though they can be trained to speak. Luckily, they don't scream and prefer to whistle. Senegals are great for anyone who loves an affectionate parrot that doesn't annoy their neighbors
Size
Small
10 inches
Weight
4 - 6 ounces
Life expectancy
20 - 30 years
Personality traits
Outgoing, playful, comical
Physical characteristics
Dark green and brownish-gray body, green throat, orange thighs, yellow chest
Caring Tips For Parrots
To be healthy and happy, parrots require attention, adequate playtime and also sufficient space in their cages. sbobet indonesia
Here, we share tips on how you can create a wholesome environment for your parrot and what your parrot should eat! We also share how you can take care of your parrot when they fall ill.
Building the habitat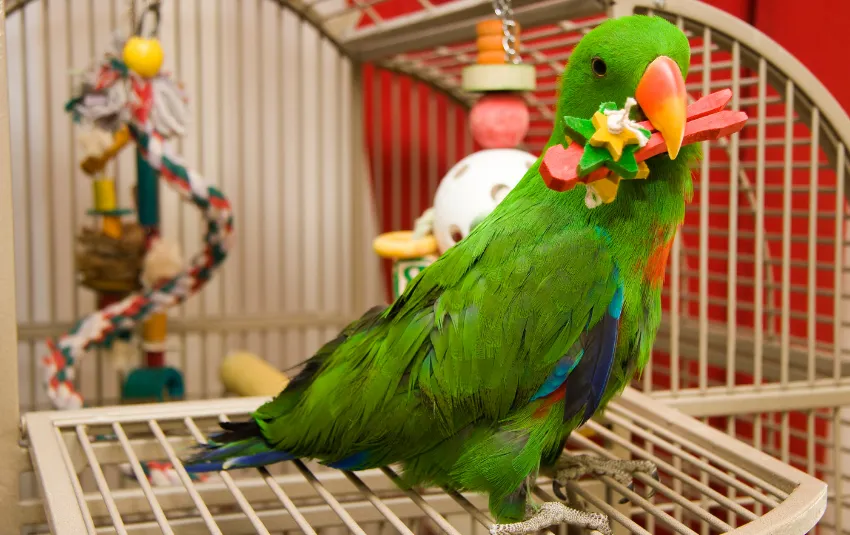 There are 3 important variables to take note of to build a good habitat for parrots
1. Cage size
For any parrot, the bigger the cage, the better. Your parrot should be able to completely extend their wings without touching anything inside the cage. You should also ensure that the bar spacing is appropriate to the size of your parrot to avoid any injuries.
2. Perching surfaces
It's recommended to provide a variety of perching surfaces for your parrots to rest and to keep their feet healthy. Having 3 different perches of varying materials and sizes is recommended. For example, you could install a branch perch, a rope perch and a cement perch.
3. Environment outside the cage
It's advised to create supervised safe areas outside the cage so that your parrot can interact with the family. You may install play gyms, where you can place bird toys, and t-perches.
Depending on your parrot's preference, you may enrich the habitat with toys that can keep your parrot entertained.
What to feed parrots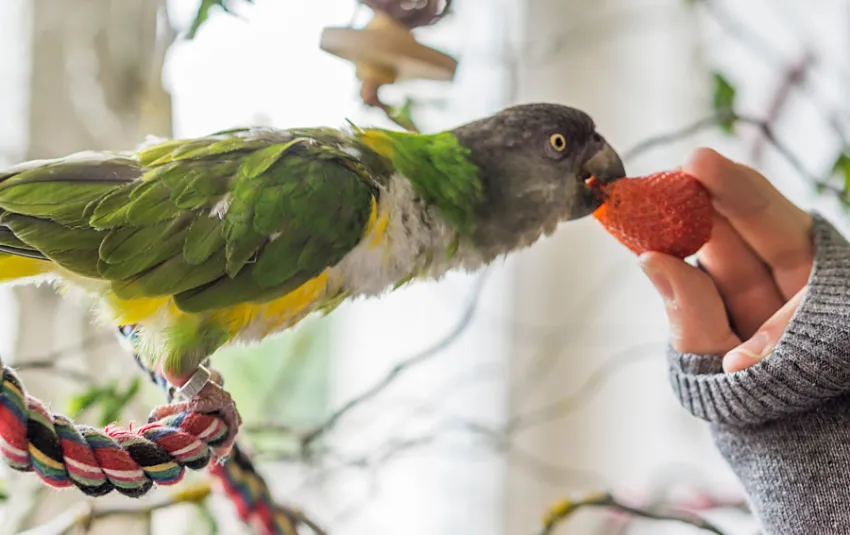 It's not recommended to feed your parrots a seed-only diet as this leads to low calcium and high fat levels, causing obesity and liver diseases.
Here is a list of food that is recommended for them:
Fruits such as apples, bananas, papayas
Raw or steamed vegetables
Cooked whole grains such as rice, oats, barley, quinoa
It's advised for your pet's diet to comprise 40% fresh foods.
How to care for a sick parrot
If you think your parrot is sick, it's best to take it to a veterinarian.
However, if your parrot has already seen one, here are some tips that can aid in expediting the recovery of your sick parrot.
1. Provide warmth and to ensure that your parrot is fed sufficiently
Position a heating lamp so that your parrot may shift its position if it feels uncomfortably warm. To gauge if the temperature is too warm, place your hand near the bird, it should feel comfortable.
2. Hand feed your parrot
Feed your parrot until it regains their strength and appetite. Be careful not to drip water onto its beak as water can get into their lungs and cause them to drown.
Frequently Asked Questions About Parrots