If you're a pet lover, it's almost impossible to walk past a pet store without stopping to admire some hamsters. Tiny yet full of quirks, they're a joy to watch – even when they're sleeping. Plus, they're easy to care for, making them great pets for beginners.
If you're unsure of which to add to your family, here's a list of 5 types of hamster breeds that are domesticated. We've also included common traits and useful care tips to help you see which is best suited for your lifestyle!
Disclaimer: The content in this article provides general information that should not be used as a substitute for professional advice from a vet. For an accurate diagnosis of your hamster's health condition, please consult a vet.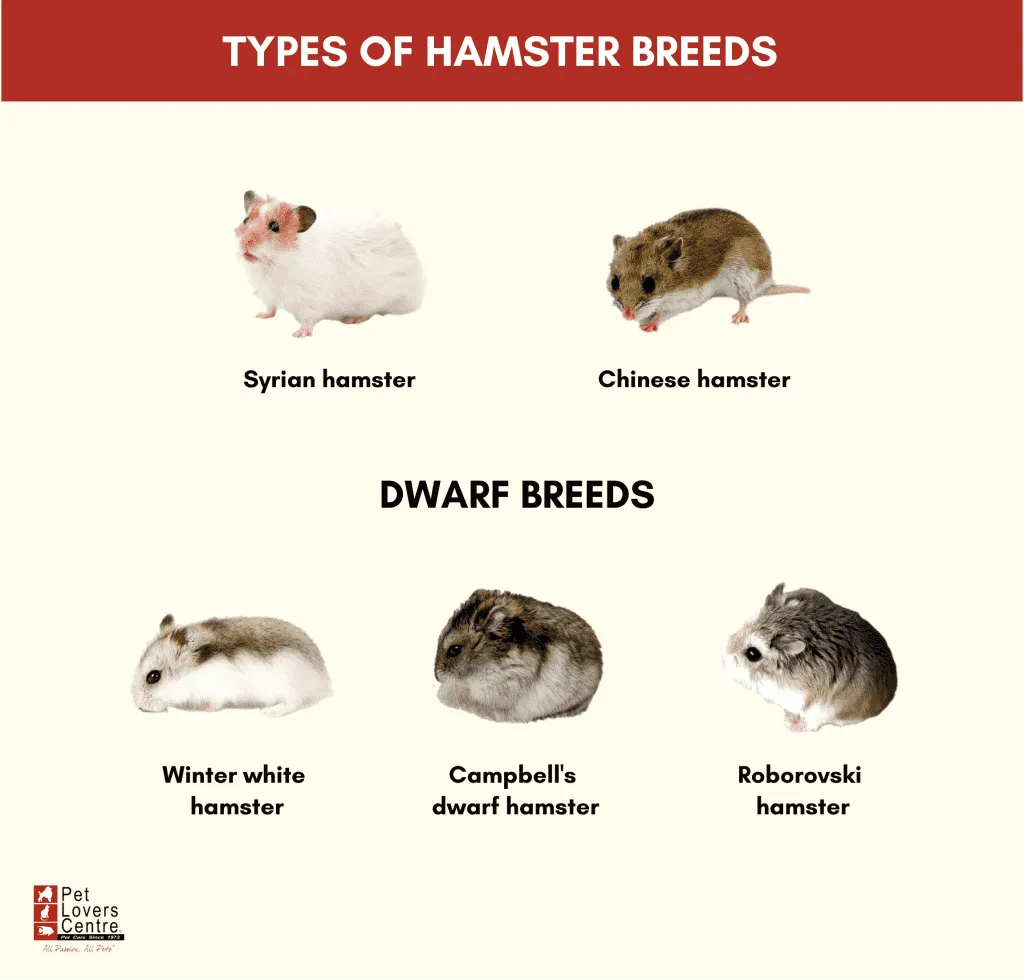 1. Syrian Hamster
Syrian hamsters are one of the most common pets in Singapore due to their cuddly and docile nature. These charming furry babies are also known as golden hamsters or teddy bear hamsters.
Physical Traits
Size
15 - 17cm
Weight
100 - 140g
Life expectancy
2 - 3 years
Features
Typically golden brown with a lighter belly

Stubby tail, small eyes and cheek pouches

Comes in long coat variants
Personality traits
Easy to tame and handle
Friendly and docile
Solitary
They're known to be the friendliest hamster breed for humans. As they're solitary creatures, Syrians are best housed alone. They're known to fight and inflict harm on each other when housed together.
Care requirements
Diet
In order to keep your Syrian healthy, an ideal diet should include:
Commercial hamster mixes
Small pieces of fresh vegetables and fruits, including apples, pears, broccoli, cauliflower and carrots
An occasional treat like nuts, grains, seeds or mealworms
Housing
As Syrians are larger in size compared to other hamster breeds, they require a larger hamster wheel and living space so that they can get their daily dose of exercise!

Note!
All hamsters require bedding at the bottom of their cage to keep them comfortable and as a way to burrow like they do in the wild. You can use shredded paper and hardwood shavings.

Cedar or pine-based bedding should be avoided as the smell can be toxic to them.


Grooming
Brushing: Once daily with a soft-bristled toothbrush for long coat variants
Cleaning: Place a bathhouse filled with bath powder in the cage and change it out every 2 weeks. Spot clean with wipes if necessary
Hair trimming: For long coat variants, trim hair when it gets too long or intrusive
If there's a weird odour coming from your Syrians, there may be a chance that he's suffering from wet tail disease. This is a health condition which Syrians are susceptible to and is usually caused by stress.
To prevent this, vets recommend using wet tail drops when you first take your hamster home.
Suitable for:
Hamster owners of every age and care experience
Owners who have time to dedicate to grooming (for long-haired variants)
2. Winter White Hamster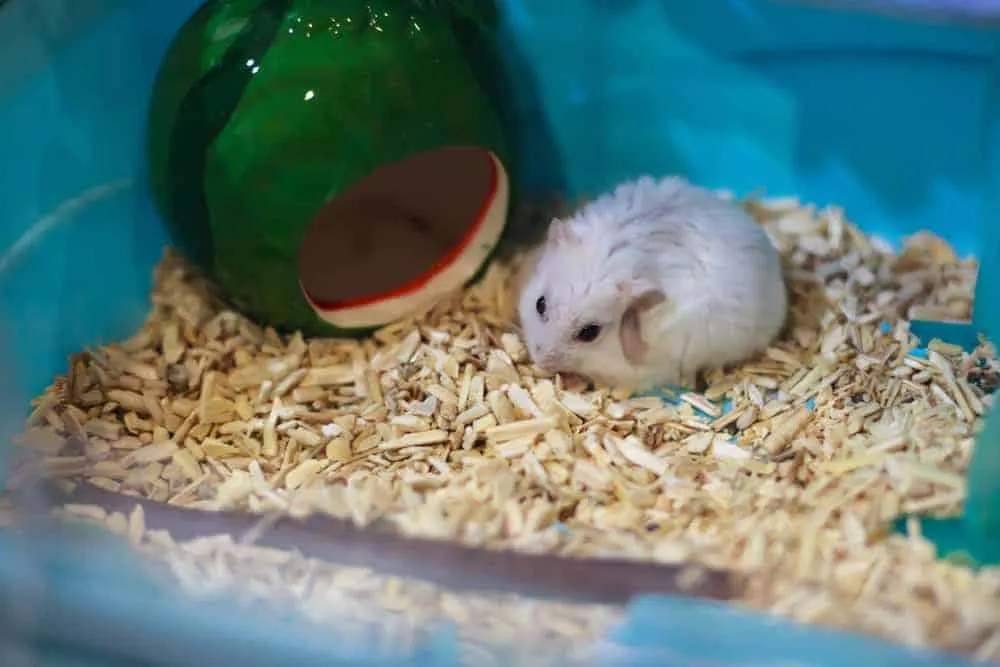 As their name suggests, winter white dwarf hamsters originated from snowy regions. They also go by the names Siberian hamster and Djungarian hamster.
Interestingly, their coats turn white in winter to help protect them from predators! They share a similar appearance to Campbell's dwarf hamsters, with the exception of having furry feet, smaller ears and a wider dorsal stripe.
Physical Traits
Size
7 - 10cm
Weight
19 - 45g
Life expectancy
1.5 - 2 years
Features
Grey or brown coats that can turn white in winter

Thick and dense coat

A wide black dorsal stripe along their backs

Small ears, furry feet and a round face
Personality traits
Sweet and mellow
Social
Playful and active
Winter white hamsters are easily tamed and enjoy the company of a same-sex companion. They're very energetic hamsters that love to play.
Care requirements
Diet
Winter white hamsters have no particular food requirements, but a balanced diet is essential to keep them in good health and provide energy.
Feed them a combination of fruits, vegetables, seeds, nuts, insects and hamster mixes!
Housing
As winter whites are extremely active and love to climb, having a cage with multiple levels and plenty of interactive toys for hamsters will prevent boredom.
Tanks are a more ideal housing for these animals. They're almost half the size of Syrians and are quite fast, which may allow them to escape through the gaps of traditional hamster cages.
Grooming
Winter white hamsters don't require as much grooming as a long-haired Syrian hamster. A dust bath will be sufficient to keep them squeaky clean!
Note that you shouldn't give any hamster a wet bath as it'll harm them.
Suitable for:
Hamster owners of every experience level
Not suitable for:
Children as primary caretakers
3. Campbell's Dwarf Hamster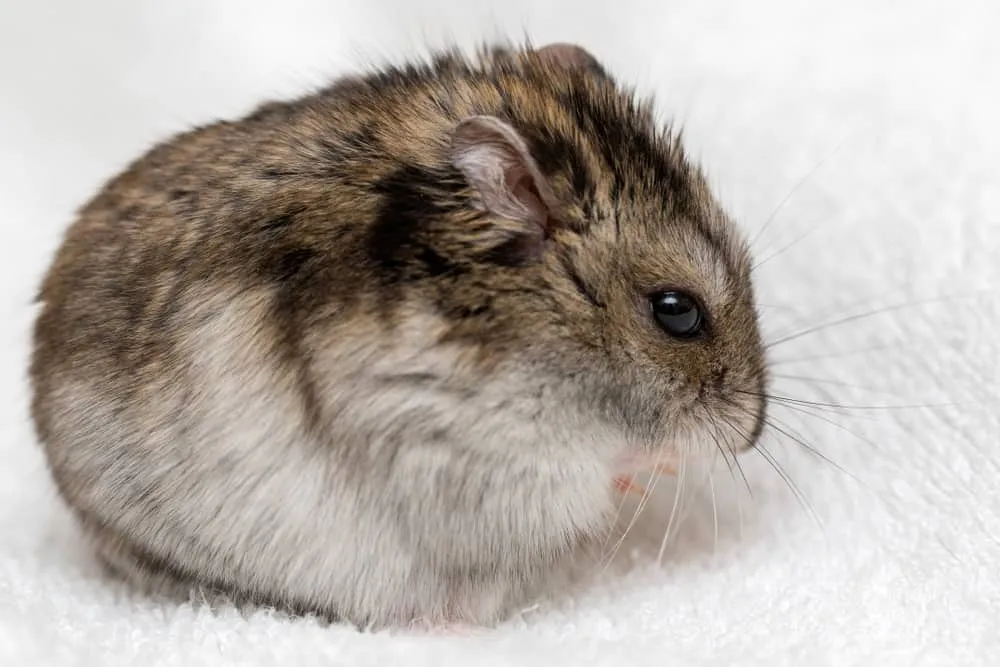 With their round bodies and small size, Campbell's dwarf hamsters have an adorable look. It may be common to see pet stores naming them as "yellow pudding", "blue pudding" or "sapphire" hamsters depending on their coat colour.
Physical Traits
Size
10cm
Weight
27g
Life expectancy
1.5 - 2 years
Features
Commonly found in grey or brown, but can come in many different coat colours

A thin dorsal stripe on back

Light grey fur on stomach

Large and upright ears, and a long and thin face
Personality traits
Affectionate
Easily frightened
Stubborn
When startled or grumpy, Campbells may resort to nipping. They tend to remain awake during the times they receive the most attention.
Care requirements
Diet
Compared to other hamster breeds, Campbells are prone to diabetes. An ideal diet should consist of high protein content and minimal fruits to reduce sugar levels.
For example, you can feed them about ⅙ of a grape each month as a snack. You can also consult your vet before feeding them any fruits.
Housing
When Campbells don't feel comfortable, they may attempt to escape the cage. The best way to prevent this is to keep their housing well ventilated, to which a cage may be more ideal than a tank.
As they're rather timid, ensure that there's plenty of hiding places in the cage to make them feel safe when they're sleeping or hiding.
Grooming
Similar to winter whites, they don't have special grooming requirements. You need to ensure that you place a dust bath in the cage and replace it every 2 weeks to keep your hamster clean.
Suitable for:
Experienced hamster owners
Not suitable for:
Children as primary caretakers
First-time hamster owners
4. Roborovski Hamster
Roborovski hamsters are the smallest hamster species and the fastest of the dwarf breeds. They're also called Robo dwarf hamsters. These hardy little animals aren't especially prone to any illnesses. agen sbobet indonesia
Physical Traits
Size
5 - 7cm
Weight
20 - 25g
Life expectancy
3 - 4 years
Features
Sandy brown colour with white fur on their stomach

Distinctive white marks over their eyes

Upright ears
Personality traits
Extremely shy
Social with other hamsters
Possessive over belongings
Roborovskis are social creatures that love interacting with their own kind. However, they don't enjoy being touched and may try to escape when being handled.
Care requirements
Diet
Feed your Roborovski with a tablespoon of hamster mix and small amounts of fresh food daily as they have very fast metabolisms.
Housing
A tank may be more ideal than a cage because a cage has gaps where these agile creatures could escape through.
As Roborovskis dislike sharing, ensure that each hamster has their own toys, bowls and water bottles to prevent fighting.
Grooming
They require dust baths to keep clean and hygienic. If you need to spot clean them, use treats or toys to keep them distracted and wipe gently as they might try to wriggle out of your hand.
Suitable for:
Experienced hamster owners
Not suitable for:
Children as primary caretakers
First-time hamster owners
5. Chinese Hamster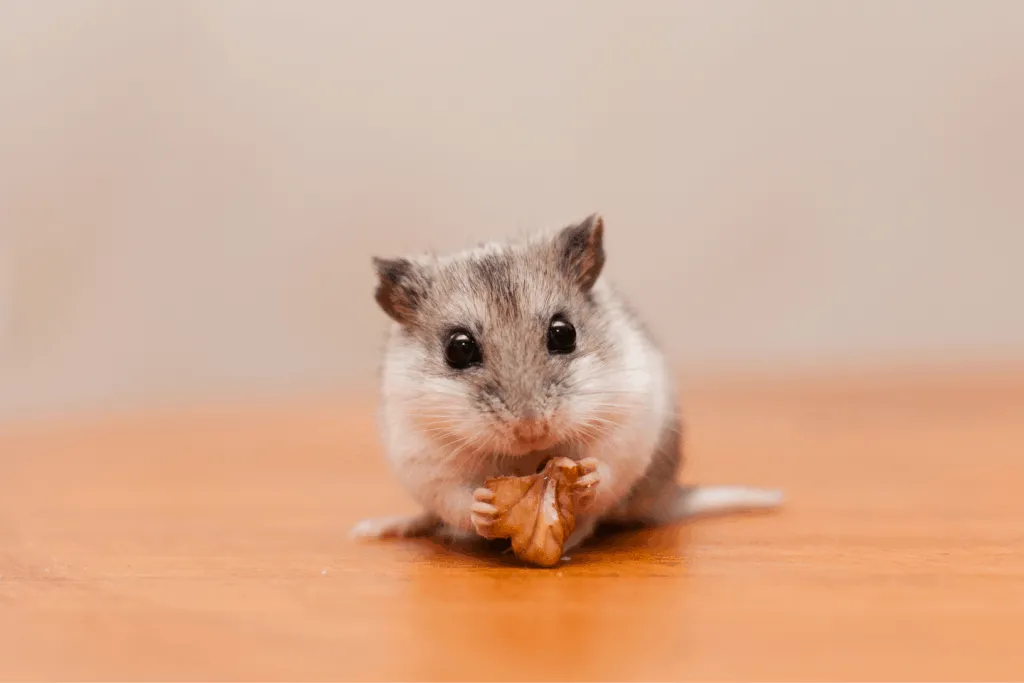 Chinese hamsters are small rodents that came from the deserts of China and Mongolia. They're often mistaken as mice due to their pointed noise and noticeable tail.
Physical Traits
Size
8.2 - 13cm
Weight
30 - 45g
Life expectancy
2.5 - 3 years
Features
Brown coats with a thin black dorsal stripe along their backs

White fur on stomach

Long prominent tail as compared to other breeds

Round, upright ears and a pointed nose
Personality traits
Friendly and doesn't nip
Prone to behavioural problems without enough interaction
Territorial
Chinese hamsters need frequent attention and handling to keep them calm and satisfied. They may start chewing on anything they can get their teeth on when they're bored or left alone for extended periods of time.
Care requirements
Diet
Similar to other hamsters, Chinese hamsters will benefit from a diet of hamster food, fresh fruits and vegetables, nuts, grains, seeds and insects.
Housing
As these hamsters require constant interaction, you can help by providing toys and space to keep them occupied and promote their mental health.
House them in separate cages if you have more than one until you're absolutely sure that they won't harm each other. Alternatively, you can get littermates who are already used to each other's presence.
For female Chinese hamsters, it's best to house them separately as they can get more aggressive as they mature.
Grooming
Ensure there's a bath house with sufficient space for them to groom themselves. Fortunately, spot cleaning your Chinese hamster should be relatively simple as they enjoy being held.
Suitable for:
Pet owners who are fond of handling pets regularly
Experienced hamster owners
Not suitable for:
Children as primary caretakers
First-time hamster owners
Understanding the Different Hamster Breeds
Each hamster breed has unique characteristics, but it's important to bear in mind that temperaments may change due to environment and age.
No matter how adorable they may seem, hamsters still require a commitment period of 3 to 5 years, so don't get them on impulse! Do familiarise yourself with their dietary requirements too.
Buying hamsters isn't the only way to take these cuddly pets home. Read our guide to find out where to adopt hamsters in Singapore!