There's been growing interest in raw dog food among pet owners in Singapore over the past few years. This global trend has been gaining popularity as many loving pawrents are constantly on the lookout for ways to enhance their pups' health. Advocates list numerous advantages to the raw diet, from shinier coats to reduced allergies.
Although the topic remains polarising for some, many dog food brands have stepped in to cater to its rising demand.
Read on to find out more about raw dog food, its pros and cons, and the different types of products available locally! judi bola sbobet
Disclaimer: The content in this article provides general information about raw dog food available today and doesn't reflect the views of Pet Lovers Centre. When deciding on whether the diet is suitable for your dogs, please conduct adequate research or consult your vet.
What is Raw Dog Food?
Raw dog food is fresh, minimally processed food designed to give pups a more natural, wild diet, in line with what doggy ancestors used to eat. It's believed to retain essential nutrients that may be stripped away during the cooking process.
It's typically made up of:
Uncooked fresh meat and organs
Edible bones
Fruits and vegetables
Dairy
Vitamin and mineral supplements
Raw dog food is often sold in air dried, dehydrated, freeze dried or frozen variations. It can also be prepared at home, though it's not recommended for risk of contamination or improper nutritional balancing.
Air Dried Dog Food
To produce air dried dog food, moisture is gently removed from fresh food via evaporation to make it last longer on a shelf. Some moisture is retained so that it can be eaten without the need for rehydration, just like kibbles.
Dehydrated Dog Food
Similar to air dried variations, dehydrated dog food is gently dried to remove moisture, making it shelf-stable. However, low heat is used to carry out the process, removing almost all moisture from the mix. During feeding time, water will need to be added to the food to make it palatable for your pet.
Freeze Dried Dog Food
Raw dog food is frozen solid then vacuum dried to produce a freeze dried variant. Moisture is fully removed during this process, maintaining the food can last for a longer period of time. Bacteria and pathogens are also removed, while the food's nutrients are retained. It can be served dry or rehydrated with some warm water.
Frozen Dog Food
Commercially sold frozen dog food is typically made using a safe and specialised freezing method that ensures raw ingredients don't thaw during the process. This can typically last up to a year in the freezer.
Conversely, homemade and certain butchery-sold versions may last up to six months in the freezer, though they need to be prepared in a highly safe and clean manner.
Benefits of Raw Dog Food
Raw dog food is believed to retain more vitamins, minerals, amino acids and antioxidants that may be broken down during the cooking process. As a result, multiple health benefits are cited such as stronger immune systems, healthier coats and skin, cleaner teeth and stronger bones.
Stronger Immune System
Uncooked muscle meats, fruits and veggies are rich in proteins, vitamins and minerals that can boost your dog's immunity. Superfoods and antioxidants are usually added too, helping to detox your pup for better health.
Shinier, Healthier Coats and Skin
Raw dog food is chock-full of omega-3 fatty acids that nourish your pet's skin and fur.
Cleaner Teeth and Fresher Breath
Natural occurring enzymes and low carbohydrate levels prevent overgrowth of bacteria in your dog's mouth, enhancing their oral health.
Stronger Bones and Joints
Crushed bones in raw dog food are a great source of calcium, collagen and marrow, keeping your pet's bones and joints strong and healthy.
Drawbacks of Raw Dog Food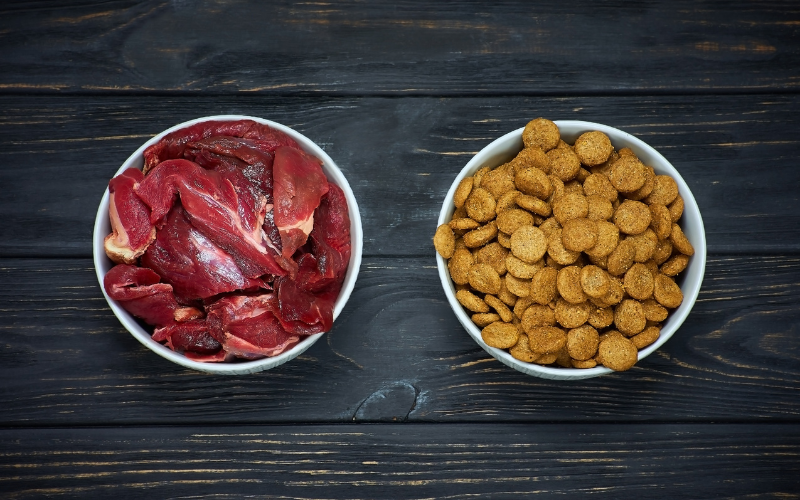 Raw dog food has certain drawbacks such as risk of contamination and in some cases, heftier price tags and longer preparation times.
Risk of Contamination
When not prepared properly, raw dog food runs the risk of being contaminated by bacteria or parasites. Thus, it's discouraged for dogs with weaker immunities caused by preexisting health conditions. Always check with your veterinarian before changing your pet's diet.
May Be More Costly
Depending on the type and brand of raw food you're opting for, it may be more expensive than the average dog food in the market.
May Require More Preparation
The diet may require more preparation before feeding, especially for frozen variations that need to be thawed before consumption.
Best Air Dried Raw Dog Food Products
These raw dog food products are air dried under low heat to maintain the structural integrity of naturally occurring vitamins and minerals. They're tasty and have great textures, making them perfect for picky eaters!
1. Absolute Holistic Air Dried Beef & Venison (1kg)
Key features:
93% meat and organs
No added grains, wheat, corn or soy
Suitable for all dog breeds and life stages
100% New Zealand sourced all-natural ingredients
If your furbaby is a picky eater, consider getting Absolute Holistic's Air Dried Beef and Venison dog food. Their air-drying technique creates a jerky texture your pups will love while locking in enzymes and nutrients to enhance their overall well-being. The product is inspired by paleo diets that speak to your dog's inner wolf.
Other flavours available: Chicken & hoki, lamb & salmon, mackerel & lamb
2. ITI Biti Variety Box (5x200g)
Key features:
Best suited for small breed dogs
90% fresh meat, organs and seafood
GMO-free, grain-free, no preservatives
Made in New Zealand
Flavours include: Beef, chicken, beef & eel, lamb & venison, lamb & kahawai
ITI's Biti line features a range of air dried raw food specially curated for small dogs. With all-natural ingredients from New Zealand, their food packs a nutritious punch that'll keep your dog full for longer!
This variety box lets your dog try out a range of flavours so they can decide on their favourites. ITI Biti is also sold in individual flavour packs.
3. Ziwi Peak Air Dried Otago Valley Provenance (1.8kg)
Key features:
96% poultry, seafood, organs and bone
10% superfood blend of cold-washed green tripe, NZ green mussels, organic kelp
No grains, potato and legumes added
Ethically and sustainably made
Ziwi Peak's Air Dried Otago Valley is a delicious blend of 5 locally sourced meats: beef, venison, lamb, hoki and southern blue whiting. This air dried, grain-free product is loaded with energy that'll get your pet full with smaller portions than regular dog food. Ziwi Peak sticks to authentic meat, organ and bone ratios, giving your pup a more wholesome, naturalistic meal.
Other variations available: Hauraki Plains provenance, East Cape provenance
Other sizes available: 140g, 900g
Best Freeze Dried Raw Dog Food Products
These freeze dried raw dog food products are carefully formulated to provide a well-balanced, high-protein diet for your furry friends.
4. Absolute Holistic Freeze Dried Raw Venison Patty (14oz)
Key features:
At least 90% venison, organs and bones
1 meat protein only
Suitable for all breeds and life stages
Made in USA
Absolute Holistic offers a complete, balanced and yummy raw diet for your beloved doggos, especially if they love venison. Their patties are made of premium ingredients, packed with vitamins and minerals to boost your pet's health.
A single patty is enough for dogs between 1 to 5kg, making them super convenient to serve!
Other flavours available: Chicken, duck, lamb, salmon
5. K9 Natural Freeze Dried Chicken (1.8kg)
Key features:
90% cage-free, grass-fed chicken
Grain-free
Suitable for all breeds and life stages
Made in New Zealand
Great for picky eaters, K9 Natural's Freeze Dried Chicken provides a delicious and nutritious meal for your dogs. The product features locally sourced ingredients from New Zealand, carefully blended to offer a balanced, energy-boosting natural diet. It's also free of artificial colourings, flavourings and preservatives.
Other flavours available: Beef, lamb, beef & hoki, lamb & salmon
Other sizes available: 100g, 500g, 1.8kg, 3.6kg
6. Open Farm Freeze Dried Pork (383g)
Key features:
100% animal welfare certified pork
85% pork, organs and bones
Enhanced with superfoods (coconut oil, blueberries)
Enhanced with organic ingredients
For ethically sourced, high quality ingredients, opt for Open Farm's Freeze Dried Pork. Enhance your pup's diet with high protein meals jam-packed with superfoods and organic ingredients that'll keep them healthy, detoxed and energised!
Other flavours available: Turkey, lamb
7. Orijen Original For Dog (6kg)
Key features:
85% quality poultry and fish ingredients
First 5 ingredients fresh or raw
Suitable for all breeds and life stages
Wholeprey (Prey Model Raw) diet
Orijen's Original dog food is formulated to provide a high protein, nutrient-dense diet for pups of all ages. To mimic the wild, carnivorous diets of canine ancestors, the ingredients largely consist of high protein chicken, turkey and fish meat and organs. Their recipe consists of both raw and fresh meats with no preservatives.
Other variations available: Six fish, tundra dog, puppy, senior, small breed, trim & fit
Other sizes available: 2kg, 11.4kg
8. Sunday Pets Raw Chow Lamb (454g)
Key features:
Grain-free, gluten-free, free-range lamb recipe
Made with 100% whole meat, organs, vegetables and fruits
Addictive light and crispy texture
Ethically and sustainably made
Sunday Pets offers flavour-packed freeze dried raw dog food with a light and crispy texture your dogs will love. Made in New Zealand with high quality ingredients, Raw Chow Lamb is a great way to introduce your dogs to a nutrient-rich diet.
Other flavours available: Beef
Other sizes available: 246g, 250g
9. Woof Freeze Dried Raw Wild Brushtail (1.2kg)
Key features:
Grain-free, gluten-free wild brushtail recipe
Suitable for all dog breeds and sizes
Enhanced with organic coconut oil, manuka honey and chia seeds
Made in New Zealand
Woof's Freeze Dried Raw Wild Brushtail is made with 100% natural ingredients to give your dog a truly wholesome daily diet. Natural enzymes and nutrients in the brushtail meat are preserved through freeze-drying, and are easily absorbed during digestion. It's also packed with antioxidants, superfoods and omega-3 fatty acids to boost your furkid's immunity.
Other flavours available: Duck, chicken, lamb, beef, venison
Other sizes available: 280g, 320g
​​

Freeze Dried Raw Dog Treats
Looking for raw treats to supplement your dog's diet? Here are some yummy high-protein products you can consider!


Best Frozen Raw Dog Food Products
These frozen raw dog food products are prepared with safety and nutritional balance in mind. With no cooking involved, they retain the maximum levels of nutrients found in natural, fresh meat.
10. PetCubes Raw Kangaroo (320g)
Key features:
70% meat protein, 25% vegetables, 5% supplements and fruits
Wild hunted kangaroo meat air-flown from Australia
Vegetables sourced from hydroponic farms in Singapore
Contains probiotics and organic berries
PetCubes' Raw Kangaroo offers a high-nutrient, all-natural meal for your dogs. It's made with truly free-range wild kangaroo meat that's lean and muscular, making it extremely protein-rich. Treat your pups with this unique flavour fit for wild and domestic canines alike!
Other flavours available: Beef, lamb, pork
11. Prime100 Kangaroo BARF (4x150g)
Key features:
All-natural ingredients
Single protein diet
Grain-free, gluten-free, preservative-free
High in omega 3 and 6
Prime100's Kangaroo BARF contains raw, crushed meat and bones rich in amino acids and omega 3 and 6 oils. This completely balanced meal is formulated to improve gastrointestinal health and make your pet's skin and coat shiny and healthy.
It's packed with naturally-occurring nutrients to strengthen your dog's bones, teeth and joints as well.
Other flavours available: Crocodile, lamb, salmon

Pet butcheries in Singapore that carry frozen raw dog food
For more fresh and frozen options, consider these local butcheries that cater specifically to pets:

Types of Raw Diets For Dogs
Raw diets are believed to provide dogs the nutrients they need based on what they're evolved to consume – lots of meat. This is because they have a similar genetic makeup to their carnivorous ancestors, grey wolves.
The Biologically Appropriate Raw Food and Prey Model Raw diets are the most common ones used.
Biologically Appropriate Raw Food (BARF)
BARF is a raw diet that modifies what canines eat in the wild to contain both fresh meat and greens, while excluding all processed ingredients. It's sometimes referred to as a paleo diet and it's composed of:
70% muscle meat
10% raw edible bone
7% vegetables
5% liver
5% other secreting organ
2% seeds or nuts
1% fruit
Pros
Cons
High in protein, low in carbohydrates, no processed ingredients


Provides dogs with essential nutrients found in fruits and vegetables


Risk of imbalanced diet if homemade
Prey Model Raw (PMR)
PMR mimics the nutritional makeup of prey-based diets that wild canines get when they hunt for their food. It's higher in protein content than BARF and doesn't include plant ingredients; it consists of:
75% – 80% muscle meat
10% raw edible bone
5% liver
5% other organs
0% – 5% animal based fibre
Pros
Cons
High in protein, low in carbohydrates, no processed ingredients


Most closely follows natural feeding behaviours in the wild


Doesn't provide dogs with essential nutrients found in fruits and vegetables
FAQs About Raw Dog Food in Singapore