Hamsters are adorable furry pets that come in different sizes and colours. They can be easy to care for and are relatively low maintenance.
In this article, we share 3 places for hamster adoption in Singapore with fees included. We also discuss the general adoption process plus some important things to note before you take one of these fur pals home.
Where to Adopt Hamsters in Singapore
1. Hamster Society Singapore (HSS)
Adoption fee:
$20
HSS is a non-profit organisation that rescues and fosters unwanted hamsters. They strive to uphold the standard for small pet care through education and awareness.
Prior to adopting, you're recommended to use their Hamster Starter Kit to ensure that you have the accessories and supplies needed to care for your pet. They also require all adopters to read their adoption information sheet before applying.
How to adopt from HSS
Browse the adoption gallery to choose a hamster.
Get all items listed in the Hamster Starter Kit ready.
Apply to adopt a hamster.
If you're shortlisted, you'll be contacted within 2 to 5 working days!
Prepare all of your supplies and arrange a pick-up/drop-off date within 10 days of your passed screening.
Email: [email protected]
2. Society for the Prevention of Cruelty to Animals (SPCA)
Adoption fee:
$10
SPCA is a registered animal welfare charity that aims to promote kindness and prevent cruelty to animals. They house all types of pets from dogs to cats, rabbits and even hamsters.
Every month, they take in about 150 stray animals and provide foster care for them until they're successfully adopted.
How to adopt from SPCA
Browse their Instagram for the animals that are up for adoption.
Schedule an appointment for adoption viewing.
Email: [email protected]
Address: 50 Sungei Tengah Road, Singapore 699012
Opening hours: By appointment only
3. Facebook groups
An unofficial platform where you can browse hamsters available for adoption is Facebook groups. This is where individuals with similar interests gather to ask questions and share tips and advice about a particular topic.
Here are some hamster-related groups in Singapore that you can join:
• Singapore Hamster Club
• Hamster Lovers Singapore
• Singapore Syrian Hamster Group
• Singapore Hamster Lovers
• Little Hammy Rescue Singapore
When it comes to these Facebook groups, you'll have to turn on post notifications and keep a lookout for adoption posts. The price and process of adoption may differ based on the group admins or the individual who posted the listing.

Note!
When adopting via unofficial platforms, it's important to ensure that the listing is real by screening the other party before processing the adoption.

Some feasible ways that you can go about this include:
• Requesting real-time images or videos of the hamster
• Scheduling an appointment to visit the owner's house – both parties shouldn't be alone.


Hamster Adoption Process in Singapore
This is the general application process for hamster adoption centres in Singapore:
Browse the adoption centre's website or social media pages to find a hamster for adoption.
Prepare the required items for your hamster's housing and care.
Fill in the adoption form or schedule an appointment for viewing.
The adoption centre may request a house visit to evaluate your home and meet the potential owners.
You can bring your hamster home once the adoption centre approves the application!

Note!
The adoption process may differ based on the platform or organisation. You're advised to enquire with your preferred adoption centre or owner about the adoption process.


Things to Know Before Adopting Hamsters
While hamsters are known to be low maintenance pets, they have certain care requirements with regard to food, housing and grooming. Here are some things you may wish to know before welcoming this furry friend into your home.
Food
A hamster's diet should ideally consist of the following nutrients:
• 15% – 20% of protein
• 6% – 8% of fat
• 8% – 15% of fibre
It should be made up of little to no pellets and lab blocks can be used to supplement his diet. If you need advice on what to feed your hamster, speak to a vet for their recommendations.
Housing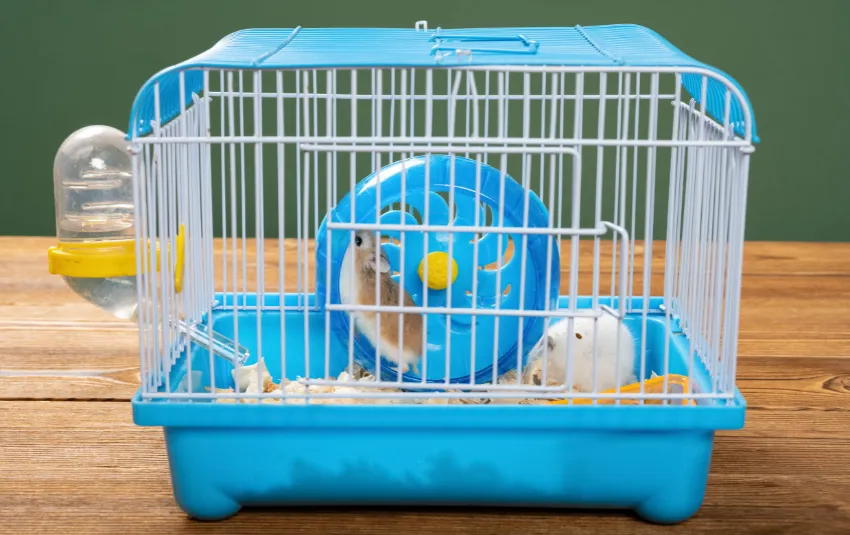 Cage
The size of the cage that you'll need depends on the breed and size of your hamster.
If you're planning to adopt a Syrian hamster, you may want to get a cage of at least 80 x 50cm. On the other hand, a Dwarf hamster typically requires a cage of at least 70 x 40cm.

Note!
Each hamster should have their own cage. Having more than 1 hamster per cage may lead to fighting!


Cage accessories
Accessories such as a hamster wheel and different shaped hideouts should be added to the cage to help stimulate your pet's body and mind.
As a general rule of thumb, the wheel should be large enough for your hamster such that his back is straight while running.
Bedding
Hamsters enjoy burrowing in their bedding so you can prepare a cage with at least 10 to 15cm of unscented bedding. Do ensure that it's safe for your pet, even if he accidentally ingests it!
Grooming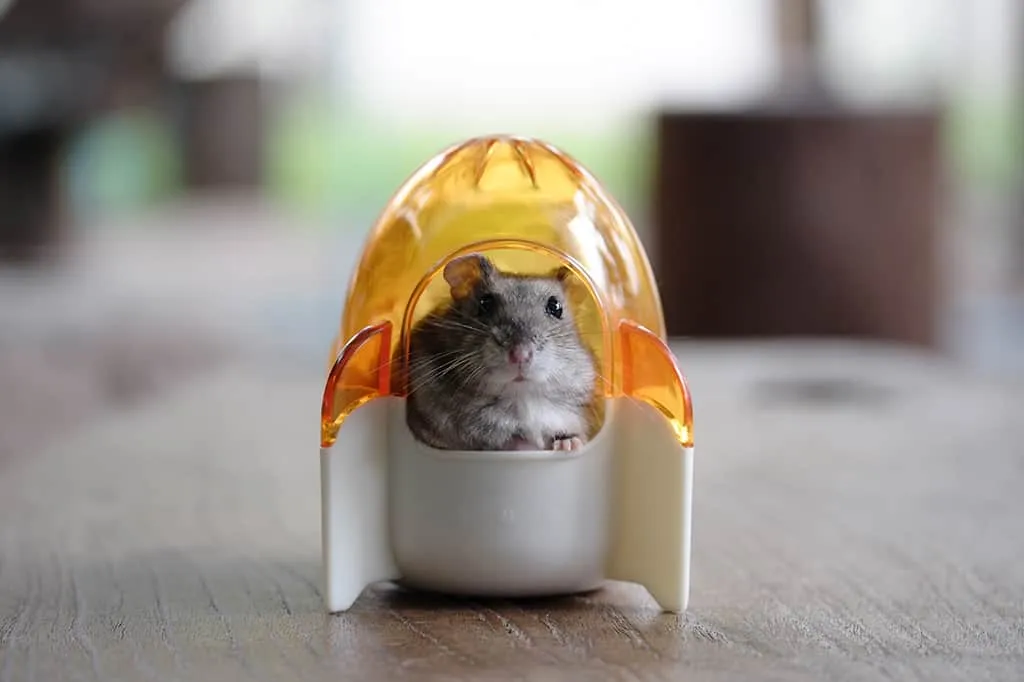 Hamsters are clean animals that can groom themselves — all they need is a sand bath in their cage! You'll want to find a sand box that's large enough for your pet to roll about in and fill it with unscented sand that's clay- and silica-free.
Note!
Hamsters don't typically need a bath. However, if they have a skin condition or some sticky or toxic substances stuck to their fur, this may be necessary.
Read about
how to give your hamster a bath safely.
Common health problems
These are some common health issues that your hamster may face:
Hamsters' teeth are constantly growing and they need chew toys to help them wear down their teeth. If their teeth are not worn down, they can suffer from dental conditions and even abscesses.
Dwarf hamsters are particularly prone to diabetes. This condition occurs when your pet's body is unable to use or produce sufficient insulin.
Ringworms and mites can cause your hamster to suffer from skin disease, allergies or infections. Certain bedding materials such as cedar can also irritate your fur pal's skin or cause allergies.
Digestive issues caused by bacteria, stress and more can result in a highly contagious condition known as wet tail. It's more commonly found in young hamsters and can be fatal.
Yeast or fungal infections
Soiled bedding can cause yeast or fungal infections in your hamster. Due to Singapore's climate, this condition is relatively common.
Note!
As hamsters are
exotic pets
, it can be difficult to find a vet who's experienced in handling and caring for these animals. Hence, you're advised to find one before committing to this pet.
Cost of Owning a Hamster in Singapore
Owning a hamster includes caring for all aspects of their needs and lifestyle such as food, health and housing. On average, these are the costs associated with owning a hamster in Singapore: sbobet
| Items | Price |
| --- | --- |
| Adoption | $10 – $20 |
| Basic health check | $35+ per session |
| Food | $20+ per month |
| Cage and accessories | $115+ |
| Bedding and sand | $15+ per month |
FAQs about Adopting a Hamster
Each hamster breed has their own set of needs and should not be cared for the same way across the board. Depending on your lifestyle, certain hamsters may be more suitable for you as a pet. 
Here's a handy breakdown of the various hamster breeds and their care needs to help you decide.
The cost of adopting a hamster can range from $10 to $20.
Though hamsters are known to be low maintenance pets, they do require gentle and careful handling. They can be startled by loud noises and sudden movements, and may bite when being abruptly awakened from a nap.
Hence, hamsters may not be the most suitable pets for children, especially those below 8 years old.
Adopting a Hamster in Singapore
Hamsters often become the victims of neglect and disinterest. Once their novelty has worn off, many choose to give them up as they can be relatively inexpensive to purchase from shops and are thus, seen as a disposable commitment.
Therefore, before adopting a hamster, it's crucial to learn more about this animal and how to care for one before making your decision.

Check out our other adoption articles!