Golden Retrievers, also commonly referred to as Goldies, are one of the most popular dog breeds in the United States and the world. With their gentle, sociable, and loving demeanor, they make great and loyal companions for life.
If you're thinking of owning this fun and affectionate dog, read on to find out more information about their key traits, how to care for them and more!
We'd like to thank the following contributors for their valuable input towards this topic:
Dr. Ellen Marcinkiewicz (DVM) from Breed Advisor,
Sakura Davis, a Veterinary Technician and Consultant from CatPet and
Jen Jones, a Professional Dog Trainer and Behaviour Specialist from Your Dog Advisor.
*Disclaimer: The content in this article provides general information that should not be used as a substitute for professional advice from a vet. For an accurate diagnosis of your dog's health condition, please consult a vet. judi bola online indonesia terpercaya
Key Physical Traits
Weight
Male: 30 - 34kg

Female: 24 - 29kg
Height
Male: 58 - 60cm

Female: 55 - 57cm
Life expectancy
10 - 12 years
Coat
Light golden

Golden

Dark golden
Common Personality Traits
Playful
Golden Retrievers are very energetic dogs that love to have fun. They enjoy staying active and playing all sorts of games.
Friendly
They have a sweet, bubbly and gentle personality. Due to their kind temperament, they're great with children.
Intelligent
With an eagerness to please their owners, Golden Retrievers are highly obedient and can learn commands easily.
Caring For A Golden Retriever In Singapore
Residing in a HDB
Golden Retrievers aren't allowed to be kept in HDBs. This is due to their large size, as HDB dogs can't be taller than 50cm or heavier than 18kg.
You can refer to this list of HDB approved dog breeds to find out which dogs are allowed in HDB flats!
Grooming for a Golden Retriever
Golden Retrievers are a double-coated breed.
Undercoat:
Curly and wavy
Overcoat:
Long and straight
Despite having long fur coats, they are able to live in tropical climates like Singapore. But it's important to make sure that they have enough water and shade.
Like Shetland Sheepdogs, their coats shouldn't be shaved as doing so will expose their skin to heat and potentially leave them with permanent skin damage.
Grooming tip!
Golden Retrievers are prone to ear infections especially if they enjoy swimming. To prevent this, pluck out their ear hairs and clean their ears at least once a month.
Regular baths, a brushing routine and consistent grooming will keep the coat healthy and help with heat insulation.
As they tend to shed profusely throughout the year, Sakura (Veterinary Technician and Consultant from CatPet) recommends that you should brush your Goldie at least once a week to keep it under control.
Exercise for a Golden Retriever
As active dogs, Golden Retrievers require daily exercise in order to keep them healthy and happy. Some ideal exercises include walking, running, hiking and swimming.
Depending on the type of exercise, Jen (Dog Trainer and Behaviour Specialist from Your Dog Advisor) mentions that at least 1 hour a day is ideal with playtime in between.
The amount of exercise will also have to be adjusted depending on your Goldie's age and condition.

For a fun weekend activity, you can bring them to a dog park. This is a safe and designated space for dogs to run around and socialise with others. A dog café would also be an excellent place for your pup to mingle and socialise with other dogs.
Diet For A Golden Retriever
Golden Retrievers are classified as large dog breeds that are extremely energetic and playful.
To keep up with their active lifestyle, you'll need to feed them the right combination of fats, protein and carbohydrates.
A healthy, balanced diet should look something like this:
protein (at least 30%)
fat (12 – 18%)
and carbohydrates (30 – 35%)
The more active your Golden Retriever is, the more carbohydrates you should feed him.
Make sure you feed them according to their unique dietary needs, activity level, weight and age. If you're unsure, consult your vet and adhere to their instructions.
How To Train A Golden Retriever
Training a Golden Retriever as a puppy is important because it imparts them with the skills to integrate among people and other animals.
The good news is that it's generally simple to train them because they are intelligent dogs that are eager to please their owners.
Make dog training fun

To keep your Goldie intrigued and engaged during training sessions, use fun games. Employ a happy or playful tone of voice instead of being stern and yelling.
Give rewards

Make use of dog training treats or toys to reward the specific behaviours or tricks you're trying to teach him.
Be patient

While they are easy to train, exercise patience and ensure that your training expectations match your Golden Retriever's age and skill level.
Alternatively, you can send your Golden Retriever to a dog training school if you're clueless on where to start.
Training tip!
According to Emma at
Totally Goldens
, it's important to train Golden Retrievers to like grooming as they'll be getting groomed often. Get them accustomed to being touched by touching their paws and giving full-body massages.
Common Health Issues
Hip and elbow dysplasia
Hip and elbow dysplasia is a form of arthritis that's common in large dog breeds like the Golden Retriever. It can also be attributed to improper nutrition and obesity.
It occurs when joints rub and grind against each other, causing deterioration and walking difficulties.
Symptoms:
Decrease in activity and range of motion
Difficulty in jumping, running and climbing stairs
Swaying or hopping during movement
Treatment:
Supplements
Medication
Physical therapy
Surgery

Chest conditions
As a large dog breed, issues with the heart and lungs are quite common for Golden Retrievers.
One such chest condition is subvalvular aortic stenosis (SAS), which causes blockages in veins that carry oxygenated blood out of the heart.
Symptoms:
Obvious lethargy
Shortness of breath
Fainting
Treatment:
Cancer
Veterinary Oncologist Dr. Cheryl London explains that Goldies are unfortunately more susceptible to certain cancers than other dog breeds.
They usually develop 4 types of cancer: hemangiosarcoma, osteosarcoma, mast cell tumors and lymphoma.
Symptoms:
Lumps and bumps underneath their skin
Abdominal swelling
Sudden weight loss
Treatment:
Chemotherapy
Surgery
Radiation therapy
Allergies
Golden Retrievers face two common allergies – food and skin allergies. These may be triggered by environmental allergens, fleabites, and food allergens.
According to Dr. Ellen (from Breed Advisor), signs of allergies tend to start between 1 – 3 years of age. In such cases, pet parents can turn to these hypoallergenic or meatless options.
Symptoms:
Mild to severe itching of the skin
Constant licking of paws
Frequent ear infections
Treatment:
Food: Medication, throwing out the trigger food, hypoallergenic dog food
Skin: Medication, hyposensitization therapy
Ear infections
Golden Retrievers are prone to ear infections.
The large size of their ears can cause moisture to be trapped in the inner ear, causing bacteria and yeast buildup.
Symptoms:
Constant scratching at the affected ear
Redness and swelling of the ear canal
Odour emitting from the ears
Treatment:
Price Of Owning A Golden Retriever In Singapore
One-Off Costs
Licensing
All dogs must be licensed according to the Animals and Birds (Dog Licensing and Control) Rules. This ensures traceability in the event of an outbreak of animal-related diseases.
The cost of the license will depend on the number of dogs you own and the license that you're applying for.
Category
1-year license
2-year license
3-year license
Lifetime license
Dogs below 5 months of age
$15 per dog
N.A
N.A
N.A
First 3 dogs
$15 per dog (sterilised)

$90 per dog (non-sterilised)
$25 per dog (sterilised)

$165 per dog (non-sterilised)
$230 per non-sterilised dog
$35 per sterilised dog
Subsequent dogs
$180 per dog

OR

A reduced license fee of $15 for the 4th dog
$325 per dog

OR

A reduced license fee of $24 for the 4th dog
$460 per non-sterilised dog
$460 per sterilised dog

OR

A reduced license fee of $35 for the 4th dog
Credits: National Parks Board
To apply for a new dog license, you can do so via the Pet Animal Licensing System (PALS).
Sterilisation
Sterilising your dog can help prevent a number of health problems that may be potentially difficult or expensive to treat.
The cost of this procedure ranges from $150 – $500. It'll also be more expensive to sterilise female dogs as compared to male dogs.
Microchipping
A microchip will help to provide reliable and secure information about your pet if they get lost or stolen.
The cost of this procedure is around $50 – $90.
Recurring Costs
Food: From $120+ per month
Vaccinations: Ranges from $30 – $60 per vaccine
Grooming: About $50+ per session
Medical and dental: About $50+ per consultation
You may also have to consider other additional costs including things like pet insurance, dog accessories and beds.
If you recently got a Golden Retriever puppy, sign up for our
Puppy Bonus Plan
* to receive a free Puppy Pack (worth up to $124) for you and your new puppy now!
You will receive
•
dog shampoo
,
•
dog food
and
• a 1-year VIP membership for new members!
*Puppy must be younger than 12 months of age.
Fun Facts About Golden Retrievers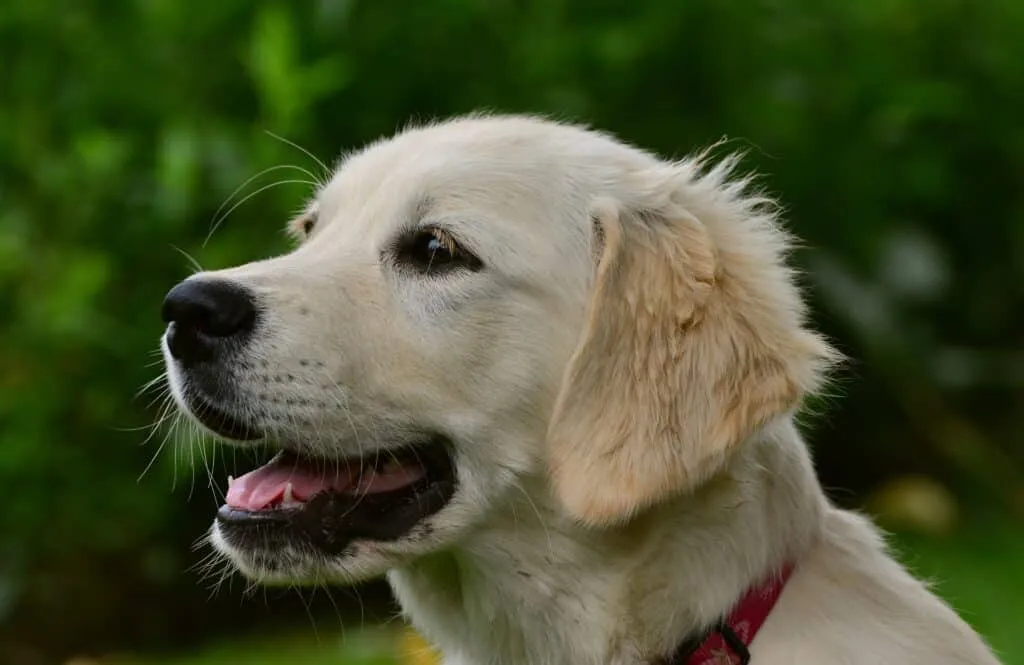 They are originally from Scotland
Golden Retrievers originated in the Highlands of Scotland in the late 1800s.
As hunting was popular amongst the Scottish elites, these dogs were bred to be excellent hunting companions that could maneuver terrains easily.
They make great service dogs
Due to their intelligent and gentle nature, they are suitable to assist people who have physical or mental disabilities.
They can serve as guide, hearing and medical alert dogs.
They are a popular choice to star in movies
Goldens are a popular choice of breed to star in movies as they are easy to train.
With their striking golden coat, they are also a beautiful and photogenic breed.
Frequently Asked Questions
Do Golden Retrievers bark a lot?
Golden Retrievers only bark occasionally and are generally more quiet as a breed. When they do bark, it's usually more friendly than aggressive.
Do Golden Retrievers bite?
Like other dogs, Golden Retrievers will possess a natural tendency to bite.
But they don't usually bite hard and are one of the easiest dogs to be around, making them great family pets.
Do Golden Retrievers shed a lot?
Due to their long fur coats, Golden Retrievers will shed a lot.
Giving your Goldie a thorough brush once a week will help in clearing loose hair and prevent it from getting all over your house.
Can you leave a Golden Retriever alone?
Golden Retrievers can be left alone. But you'll need to make sure that they have access to water and the bathroom.
This is also highly dependent on their age. For example, you should never leave a puppy alone.
Owning A Golden Retriever In Singapore
Before you decide to own a Golden Retriever, think carefully as taking care of them is an important commitment.
We advise you to conduct thorough research on how to care for them and ensure that you're ready to welcome your new furry friend into your family!