Finding the right harness for your dog can be a daunting task. With so many options available, it can be hard to determine the one that best suits your furry pal.
Whether you're looking for a small harness for a Chihuahua, a large one for a German Shepherd or anything in between, our list of the best dog harnesses in Singapore will help you find the right fit. We've also included some factors you may want to consider when choosing a dog harness plus answers to your frequently asked questions!
How To Choose A Dog Harness
There are various factors to consider when choosing a dog harness. Here are some key considerations to help you select the right one.
Size
When it comes to choosing a harness, the size and weight of your dog should be taken into consideration. A harness that's too tight may cause your dog to feel uncomfortable while one that's too loose could allow him to slip out easily. Hence, it's important to get a harness that'll fit him snugly.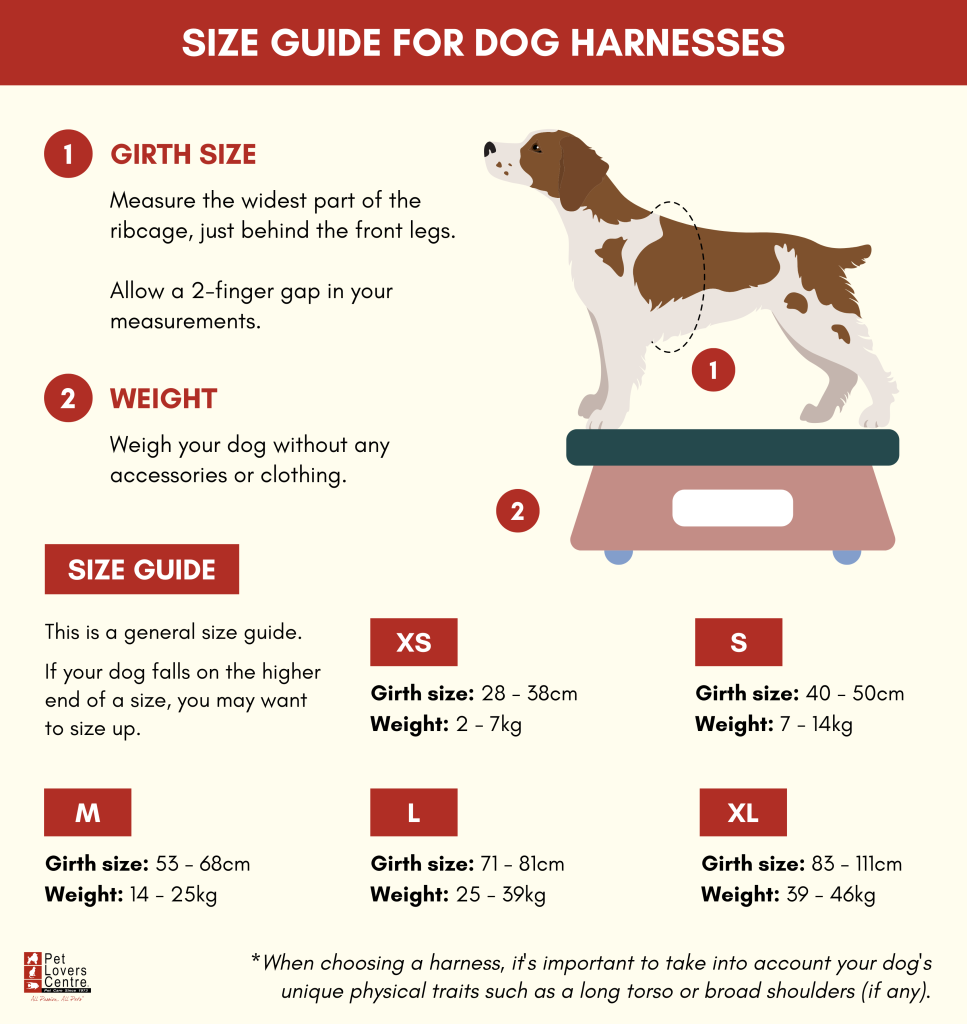 To determine the right harness size, you'll want to measure his girth and weight. Once you have the accurate measurements, check them against the sizing information of the harness you intend to purchase.
Personality
Aside from the size, you might want to think about your pet's temperament and activity level when selecting a suitable harness. If you have an active dog who likes to pull or jump frequently, a no-pull harness may be the best option. It's designed to discourage him from pulling or sprinting ahead of you, giving you better control during your walks!
Comfort
A comfortable harness shouldn't put undue pressure on your dog's neck or throat when he pulls. Paddings are also a great feature to have as they can help to prevent chafing.
Cost
The cost of a dog harness is another important consideration. The price can vary depending on the material, size and design. A harness that comes with many features will also likely cost more than a basic one.
Before opting for the most expensive product, you may want to think about whether it suits your pet's needs. You can do some research such as reading reviews and checking out different brands before you make a decision.
Additionally, it's important to note that there may be a trade-off between quality and comfort, and price. Spending a few dollars more to invest in a quality product may be more cost-efficient in the long run!
Durability
A durable harness should be made of materials such as rip-stop nylon, denim, or canvas. These materials are more likely to last, so you don't have to replace the harness as often.
Style
Your dog can make a fashion statement with his harness too! This accessory comes in various colours and designs so you can be sure to find one that expresses your pup's unique personality.
And while style is a consideration, it's crucial not to compromise on comfort and functionality since your furry friend will be wearing it frequently!
Best Harnesses for Small Dogs
Finding a harness for small dogs can be challenging as you'll need to find one that's secure enough for their size. Here are some great options to consider so you can keep your pup safe and sound.
1. Hunter Hilo Harness With Reflect – Mesh
Material: 3D mesh fabric
Size: Small (46 – 52cm)
Price: $59.60
Breathable
Lightweight
Reflective 3M Scotchlite elements
As a brand that prioritises safety and comfort, all of Hunter's harnesses are designed with the well-being of your dog in mind.
The Hilo harness features innovative 3D mesh fabric that's lightweight and breathable. Furthermore, the fluorescent properties of the reflective 3M Scotchlite material ensure visibility regardless of the time of day.
Details such as the velcro fastener and soft stitching also come together to make this harness convenient to put on and comfortable to wear.
2. Rogz Dress Jellybean Harness
Material: Nylon
Size: Small (23 – 37cm)
Price: $3.40
High-quality webbing
Wide variety of designs
Since 1995, Rogz has been manufacturing high-quality pet gear that takes into account safety, functionality and design. By combining fashion and practicality, the brand has been able to create products that stand out from the crowd.
If you're looking for a trendy and affordable harness for your furry pal, the Dress Jellybean Harness may just be what you need. Available in a range of colours such as lime green, mint and pink, this accessory is sure to turn heads whenever you and your canine friend are out for a walk.

What is webbing?

Webbing is a strong fabric designed to bear weight. It's frequently used for furniture, ropes, sporting goods and pet harnesses.


3. Rogz Utility Nitelife Step In Harness
Material: Nylon
Size: Small (20 – 30cm)
Price: $13.75
High-quality webbing
Adjustable
Ergonomically contoured components
Reflective threads
This step-in harness is a versatile accessory for any canine. It can be easily adjusted and is made from high-quality webbing. Additionally, all joins are box stitched to enhance their strength and durability.
With its woven reflective threads, you can be sure that your pup can be seen during night walks.
4. Trustie Dog Harness
Size: Small (25 – 35cm)
Price: $7.90
Adjustable
Fray-resistant webbing
Trustie's dog harness is perfect for those who prefer one that's easy to use. The adjustable design offers added convenience as you can simply loosen or tighten the straps until you get the right fit.
Furthermore, it features a D-metal ring at the centre of the back, making it easier for you to manage your pet whenever you're out. With this harness, you can enjoy a stress-free dog-walking experience!
Best Harnesses for Medium Dogs
Need a harness for your medium-sized dog? Here are some of our top picks to make outings and daily walks with your furry companion a breeze.
5. Rogz Utility Snake Fast-fit Harness
Size: Medium (52cm)
Price: $11.15
Ergonomic boomerang design
Reflective stitching
This padded dog harness ensures high levels of comfort while providing good control. Additionally, the reflective yarn makes it easy to spot your pup during nighttime adventures. It also comes with a D-ring where you can attach your dog's identification tag in case he gets lost during playtime with other dogs.
6. Rogz Utility Snake H Harness
Size: Medium (32 – 52cm)
Price: $15.90
Designed using Rogz's special 6-dimensional designometer
Robust webbing
If you're looking for a reliable harness to keep your pup safe and in check, Rogz Utility Snake H Harness may be the one for you. The sturdy webbing can withstand any rigorous activities your dog may be up to so you can have peace of mind knowing that it'll last.
In addition, this harness is designed using the brand's special 6-dimensional designometer to create a perfect fit.
7. Tre Ponti Pastel Mesh Adj Belly Harness 4
Material: Mesh
Size: Medium (48 – 65cm)
Price: $42.60
Adjustable
Hypoallergenic
Tre Ponti's harnesses are lovingly crafted by skilled artisans in Italy. Every piece is created with the utmost care, reflecting both the company's commitment to quality and their passion for pets.
The Tre Ponti Pastel Mesh Adj Belly Harness 4 is made of soft mesh that's hypoallergenic so it's suitable for dogs with sensitive skin. With the adjustable straps, you can put on and take off the harness easily. Thus, you can get your pup prepped for his next exploration in no time!
Best Harnesses for Large Dogs
Whether you're looking for a new, fashionable accessory for your big, furry friend or just want a simple one, we've got you covered.
8. Rogz Utility Fanbelt Step In Harness
Size: Large (34 – 56cm)
Price: $23.35
Easy to fit
Reflective stitching
Keep your dog safe and comfortable with Rogz Utility Fanbelt Step In Harness. The highly durable webbing helps to distribute force evenly across your pup's chest and the reflective stitching increases nighttime visibility. Available in vibrant colours such as turquoise, yellow and pink, the harness will definitely attract eyeballs when you bring your pup out for a walk!
9. Trustie Reflective Harness
Material: Polyester
Size: Large (50 – 70 cm)
Price: $21.90
Reflective
Thick polyester webbing
Trustie Reflective Harness offers the perfect combination of sturdiness and style for those casual strolls. The thick polyester webbing provides enough padding to keep your pet comfy and the reflective material makes it easy to spot him at night.
FAQs About Dog Harnesses