When it comes to pampering our dog's on their special day, there's no such thing as "too much"! No over-the-top celebration is complete without a cake that your pup can dig into, even if he'll probably be clueless as to what's going on when you're singing him his birthday song.
Here's a list of 14 dog bakeries in Singapore that deliver customised birthday cakes!
1. US Dog Bakery
US Dog Bakery is conveniently located inside the Pet Safari of Nex Mall and VivoCity. This dog bakery offers some of the most affordable animal-friendly cakes around.
Plus, they're AVA-registered and use only FDA-approved ingredients in their cakes, cookies, treats, and special tingkat meals. All menu items are subject to the testing and approval of their dog nutritionists.
Lead time: 3 days
Self-collection address: NEX Mall #04-03 or VivoCity #03-03
Delivery fee: $20
usdogbakery@gmail.com
+65 6634 2911 / +65 6904 0390
2. Wholesome Paws
Wholesome Paws has an AVA-licensed and approved kitchen that does customised dog cakes and pupcakes. All food items use premium low fat grinds and don't contain any preservatives.
The customised barkday cake is filled with nutritional human-grade ingredients including 500g of ground meat, vegetables, goji berries, eggs and flaxseed. The meat cake is then covered with mashed potato frosting, combined with natural fruit or vegetable colouring to achieve your preferred colour.
Lead time: 3 days
Self-collection address: 5 Lichfield Road (any day), 12 Jalan Selaseh (weekends)
Delivery fee: Charged by distance* from flagship store at 5 Lichfield Road
*Rates can change due to peak hours
9116 2733
3. The Barkery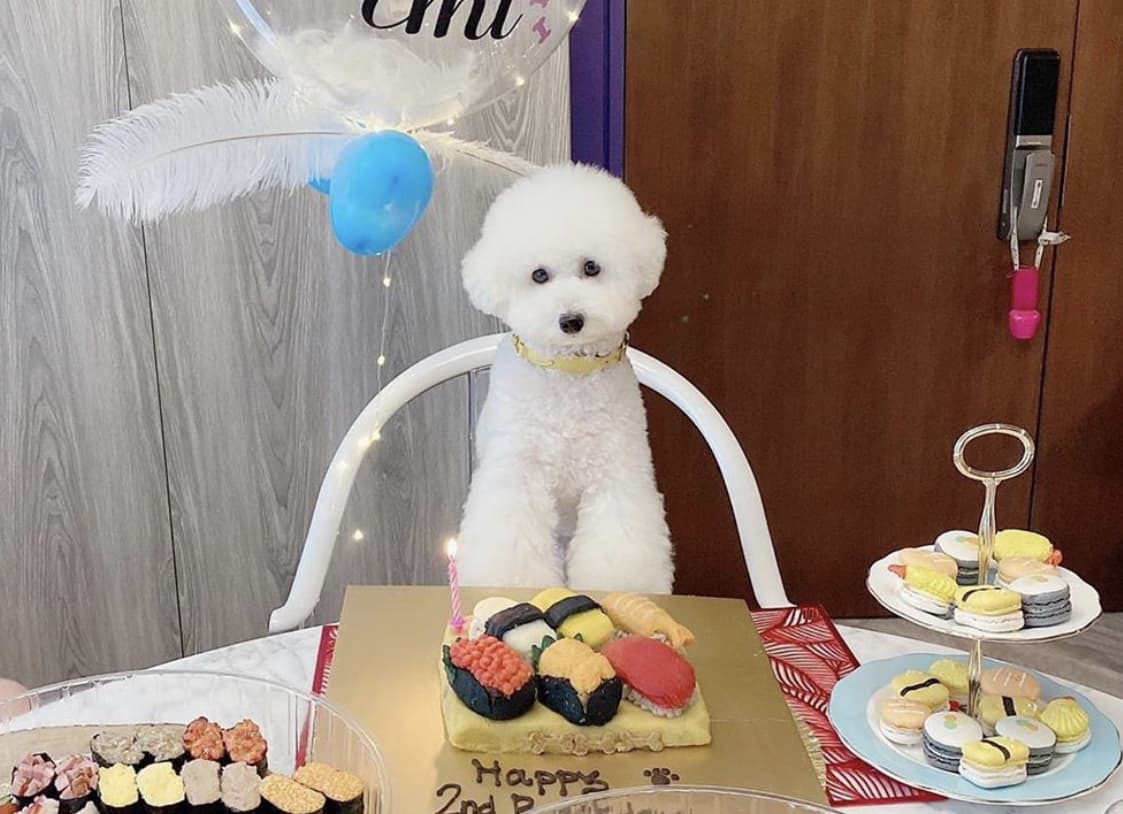 Licensed by NParks, The Barkery uses only natural human-grade ingredients in their food and things like flour, sugar, sodium, preservatives, colouring or flavouring are avoided.
They have standard and novelty cakes to cater to your budget and preferences. Do note that all cakes are freshly made-to-order so you'll need to call ahead to arrange for your own personalised cake!
Lead time: 1 – 2 days (standard cakes), 1 week (novelty cakes)
Self-collection address: 326 Joo Chiat Road Singapore 427583
(Closed on Mondays)
Delivery fee: $15 (Free for orders $50 and above)
sales@sgbarkery.com
9155 6290 (Text) / 6247 7321 (Call)
4. Barking Good
Barking Good was born after a dog parent refused to settle for off-the-shelf treats for her pup and decided to bake her own instead. As an AVA-licensed studio, the team works closely with Nanyang Polytechnic's Food Safety Centre to have their artisanal treats shelf-life tested.
Aside from bespoke cakes, they also sell pupcakes if you're thinking of throwing your dog a party with his other fur friends!
Lead time: 2 days
Self-collection address: 114 Lavender St CT Hub 2 #10-72 Singapore 338729
(Closed on Wednesdays and Sundays)
Delivery fee: $16 (Free for orders above $150)
woof@barkinggood.sg
8129 3550
5. Knibbles
Knibbles is Singapore's first eco-honest pet concept store that specialises in baking customised dog cakes. Their AVS-licensed kitchen has also been canine nutrition certified, ensuring that your pup gets the best ingredients!
They have options for a mini cake (200g), basic cake (650g, 800g, 1kg, 1.5kg), meatloaf (250g, 500g) and pupcakes. If you're looking for a door gift for your guests, there are 15g goodie packs with meat treats available too. Customised cakes are priced from $80 onwards.
Lead time: 5 days
Self-collection address: 86 Jalan Senang Singapore 418456
(Closed on Mondays)
Delivery fee: $15 – $25
hello@knibbles-sg.com
9386 2648 (Text)
6. Feed My Paws
Feed My Paws is the place to go if you're looking for an affordable and simple yet photogenic cake! Their birthday cakes are priced at $33.90+ and come in 2 sizes – 4" (250g) and 6". There are 4 protein options of either pork, salmon, chicken or beef.
All food items are made with human-grade ingredients in their AVS-licensed kitchen. If you'd like to order a customised design, drop them an email with your desired cake design, number of doggy guests and date of collection.
Lead time: 3 working days
Self-collection address: Blk 4 Lorong 7 Toa Payoh #01-129 Singapore 310004 (Friday – Sunday, 12pm – 3pm)
Delivery fee: Arrange your own courier (Friday – Sunday, 12pm – 3pm)
info@feedmypaws.com
7. Superdog Kitchen
Superdog Kitchen is the original creator of dog-friendly organic fruit tarts. This unique approach to a birthday cake has made them very popular and well-loved by both pet parents and pets.
While they have a digital catalogue, you can also customise the size and ingredients based on your dog's dietary needs. Do note that these tarts are made for dogs only; they are meant to be treats and not to replace meals.
DM them on Facebook for enquiries and to place your orders!
Lead time: 7 days
Self-collection address: Address to be confirmed via Facebook DM upon order confirmation
Delivery fee: $25
8. CoBam Cakes
CoBam Cakes offers 2 ingredient options: their signature organic sponge cake or a 100% grain-free meatloaf cake. For the frosting, you can pick either potato or cream cheese.
They also have non-meat flavours such as banana, honey and oats and peanut butter. For dogs with allergies, they're able to customise the flavours for you!
Bundle
Includes
Price
Joyeux
Cascading stars
Gold leaf accents
3 watercolour colours of your choice for the sides
1 happy birthday topper
From $118
Bloomsbury
A custom fondant dog topper
1 fondant accessory of your choice (e.g. Tiara or favourite toy)
1 customised paper topper ​
From $138
Designer cakes
Any theme and design
From $200
Lead time: 7 days
Self-collection address: 50 Bayshore Rd Singapore 469977
Delivery fee: Subject to availability; final cost will depend on the location
cobam.enquiries@gmail.com
8218 5915 (WhatsApp)
9. BossiPaws
BossiPaws is located within Ah B dog cafe and is right next to Sunny Heights swimming pool. It's the perfect place to pick up a cake if you decide to spend your dog's special day taking him for a swim!
They have 3 cake options:
• Fruit cake (human and dog-friendly)
• Standard meat cake
• 3D meat cake
If you're looking for something that's more customised, go for the 3D meat cake. It's a meat cake with mashed potato frosting and a 95% starch-free potato dog figurine. The price will be based on the protein chosen, size and design customisation.
| Type of cake | Price* |
| --- | --- |
| Fruit cake | From $24 |
| Standard cake | From $28 |
| 3D meat cake | From $98 |
*Price is dependent on the size and choice of meat protein.
Lead time: 7 days (3D meat cakes), 2 days (fruit and standard cakes)
Self-collection address: 110 Turf Club Road Singapore Singapore 288000
Delivery fee: $10 onwards, depending on distance
ahbcafe@outlook.com
8858 6661
10. Isa Pets and Bakes
Isa Pets and Bakes has various options for dog cakes and pupcakes. For their cakes, there are 5 protein options and 3 options for sizes: 4" (1 – 2 dogs), 5" (4 – 6 dogs) and 7" (12 – 18 dogs). There is a minimum order of 3 for the pupcakes and they come with 4 different protein choices.
Do refer to each product's listing to take a look at the full ingredient list. While their designs are pretty standard, they offer a vibrant touch to any party!
Lead time: 5 working days
Self-collection address: Bukit Batok MRT Station or Hillview MRT Station (Exit B)
Delivery fee: $15 (Free for orders $100 and above)
Delivery time: 11am – 6pm (+$5 for other timings)
pawme@isapetsandbakes.com
8680 8323 (WhatsApp)
11. The Snoring Dog Gourmet
Describing themselves as a "gourmet dog bakery", The Snoring Dog Gourmet has 2 options for cake customisations: the custom fancy dog cake or custom figurine dog cake. The latter features a handmade polymer clay figurine cake topper (not edible) carved according to the image of your dog.
There are 4 size options: 600g, 1.2kg, 1.8kg and 2.4kg and 6 human-grade meat protein options. Aside from that, the bakery uses a proprietary sugar-free dog fondant recipe for all decorations.
| Type of cake | Price |
| --- | --- |
| Standard cake | $30 - $40 |
| Custom fancy dog cake | From $65 |
| Custom figurine dog cake | From $120 |
Lead time: 5 working days
Self-collection address: 47 Mandalay Road S308227
Delivery fee: $18 (Free for orders $120 and above)
https://forms.gle/gE2j6yXMydDdasYt9
8100 8165 (WhatsApp)
12. Yum Yum Bean
Originally based in Hong Kong, Yum Yum Bean was started by a dog lover and nutritionist who has since built a following thanks to the cute and clean design of her pastel cakes!
All cakes are 100% homemade with healthy organic ingredients and are free from additives and preservatives. Her most popular design is the balloon cake which features different coloured balloons, macarons and hearts!
Lead time: Subject to availability
Self-collection address: 8 Minbu Road Singapore 308162
Delivery fee: $22
loveyumyumbean@gmail.com
8128 9515
13. Pawlicious Bakery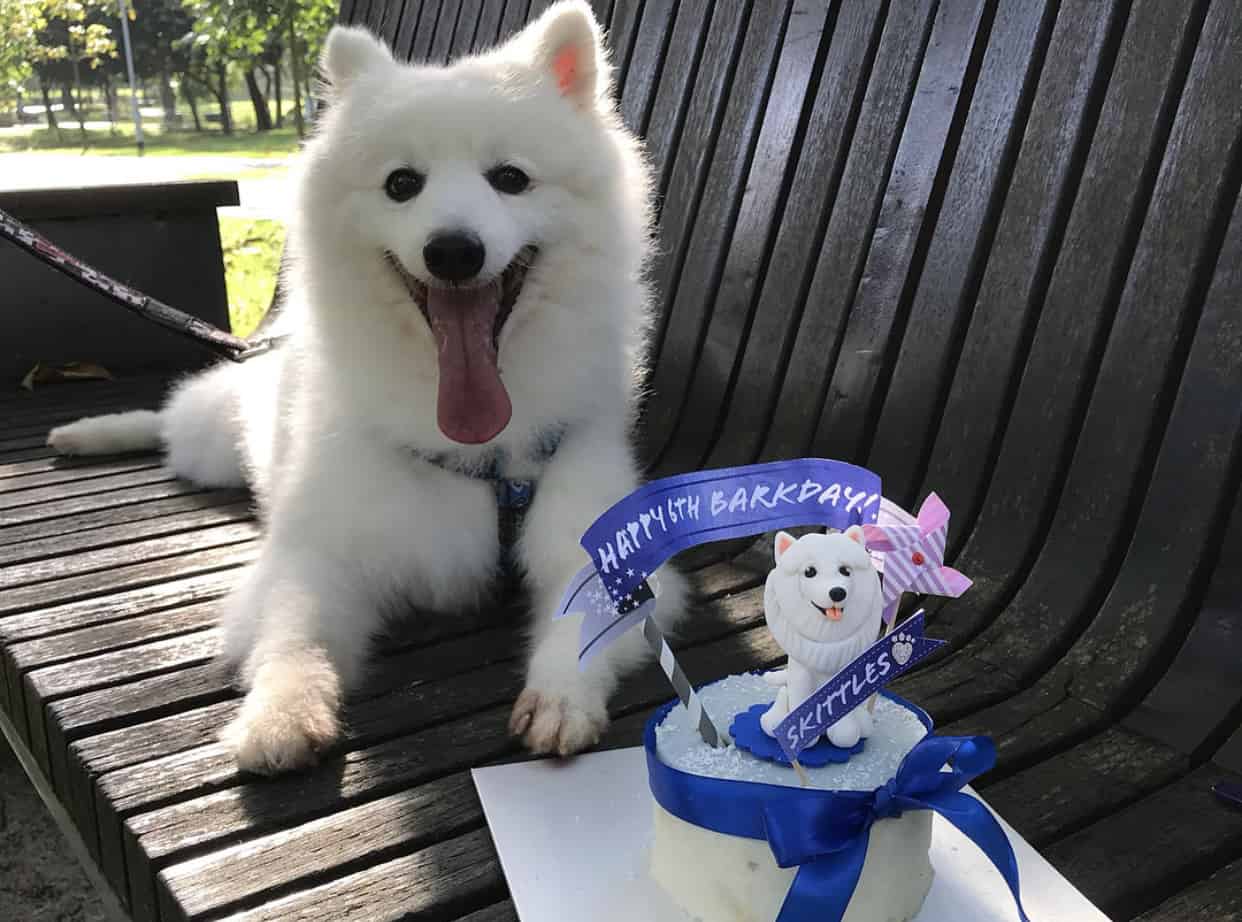 Pawlicious Bakery offers grain-free meatloaf cakes that come with a banner and name tag. Pet parents also have the option of adding a customised air clay figurine (not edible), drawings, decor cookies and pawsicles.
Meat choices for the meatloaf include salmon, lamb, chicken, beef and pork. The colours of the cake can also be chosen based on the ingredients. For example, beetroot and potato will be used to achieve pink and sweet potato achieve orange or purple.
Lead time: 1 week
Self-collection address: Near Kovan Udders Ice cream
Delivery fee: $18 (Free for orders above $80)
Delivery time: after 7pm
Delivery is not available to Sentosa and West areas.
pawliciousbakery@gmail.com
9876 7621 (WhatsApp)
14. Joey's Kitchen with MMBB
Cake orders resume on 2 October 2020
Joey's Kitchen with MMBB offers 4 cake size options: 300g ($45+), 500g ($60+), 1kg ($90+) and 2kg ($160+).
All ingredients used are human-grade; you can also choose from 5 different protein choices: beef, mutton, duck, salmon or white fish. Frosting can be in the form of sweet potatoes, pumpkins or potatoes.
How to order
DM Joey on Instagram or Facebook.
A slot will be reserved for you once a date is available.
To get a quotation, choose your preferred meat and weight.
A 50% non-refundable deposit is required 3 days before the collection date. Your order is only confirmed after the first deposit.
The remaining 50% will be collected on the day itself.
Lead time: 7 days
Self-collection address: Hougang Street 21
Delivery fee: Varies based on location; can also arrange your own courier
Getting A Birthday Cake For Your Dog
These 15 bakeries offer a ton of options to celebrate your fur baby's milestone! And if you're planning to be more extra, here are some healthy dog birthday cake recipes to recreate 😉
Did we miss out any of your favourite bakeries? Let us know!