Dogs are commonly known as a man's best friend. It's no wonder since they provide us with unconditional love and devotion while expecting nothing in return!
After a hectic week, why not take the opportunity to unwind and celebrate their love by bringing your furbaby out for a day of fun at a dog café?
If you don't have a pup, you can still pay a visit to a dog café to admire some adorable ones or head down to a petting café to interact with different breeds of doggos!
From enjoying a nice meal with your furkids by your side to having fun frolicking in the presence of some furry friends, this list has got you covered! Keep reading for 22 dog cafés in Singapore, arranged according to their ratings!
Pet Menu Available
These pet-friendly cafes not only serve up sumptuous human food, but they also have delicious options for your furry companions!
1. Five &2
Google rating: 4.2 (618 reviews)
Ask anyone who has been to Five &2 and they'll only have praises to sing. This classy café boasts a fusion menu that's well-loved by all their customers. The human-grade furkids menu of salmon or beef cubes is sure to impress your furry companions too.
​​In partnership with local welfare organisations, Five &2 offers free meals to underprivileged families. They also seek to provide jobs for the marginalised in our community including ex-inmates and persons with disabilities.
Address: 97 Hougang Avenue 8, Punggol Park, Singapore 538792
Email: feed@fiveand2.co
Phone: 6282 8801
Opening hours: Sundays – Thursdays, 4pm – 12am
Fridays – Saturdays, 4pm – 1am
2. The Urban Hideout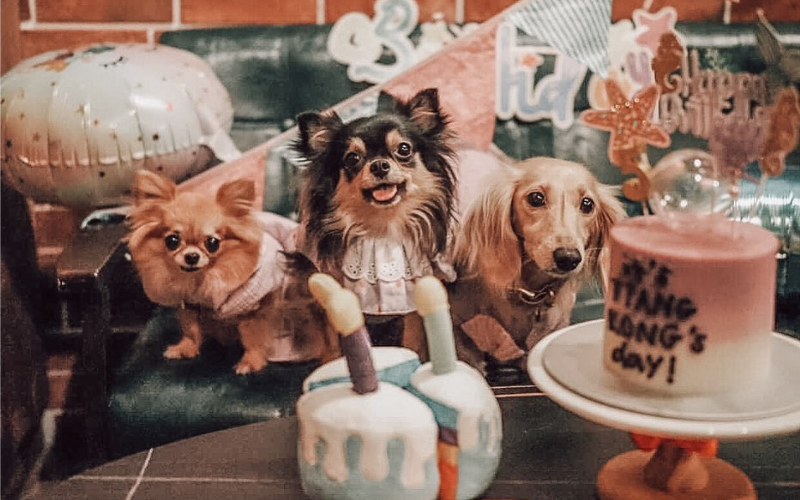 Google rating: 4.5 (226 reviews)
Facebook rating: 5.0 (36 reviews)
Truly living up to its name, The Urban Hideout is a dog café tucked away in a quaint neighbourhood in Yishun. They are proud coffee, gelato and pet lovers, serving up aromatic coffee blends, sumptuous desserts and human-grade meals for your doggos. It's a great place to relax and unwind with your pets after a long week.
They also serve brunch and all-day (human) meals that'll fill you right up, so both you and your furkids can refuel for more fun in the sun!
Address: 60 Springside Walk #01-05, The Brooks 1, Singapore 786020
Email: theurbanhideoutsg@gmail.com
Phone: 8879 9722
Opening Hours: Tuesdays – Fridays, 12pm – 10.30pm
Saturdays – Sundays, 10.30am – 10.30pm
(Closed on Mondays)
3. Ménage Café Singapore
Google rating: 4.4 (358 reviews)
Facebook rating: 4.1 (603 reviews)
Ménage café is a great place to give your furkid a treat as they serve some delicious meatballs for your pup to enjoy. As you watch him indulge in his meal, you'll be spoilt for choice with their Western menu featuring pastas, burgers and their signature fish and chips.
Furthermore, this space is very Instagrammable with colourful decor and photo spots!
Address: 6 Sin Ming Road #01-01/02, Sin Ming Plaza, Singapore 575585
Email: woof@menagecafe.sg
Phone: 9669 8372
Opening hours: Tuesdays – Fridays, 12pm – 9pm
Saturdays – Sundays, 10.30am – 9pm
(Closed on Mondays)
4. I.N.U Café & Boutique
Google rating: 4.3 (245 reviews)
Facebook rating: 4.4 (129 reviews)
To ensure that all customers can dine comfortably, I.N.U café enforces a strict dog leashing policy. They've designed an extensive menu that includes healthy food for your furkids made with human-grade ingredients such as chia seeds, fruits and vegetables.
Address: 530 Balestier Road #01-06/07, Monville Mansions, Singapore 329857
Email: i.n.u.edp@gmail.com
Phone: 8189 8092
Opening hours: Thursdays – Mondays and Public Holidays, 12pm – 8pm
(Closed on Tuesdays and Wednesdays)
5. Sun Ray Café
Google rating: 4.3 (1123 reviews)
Sun Ray café has clinched multiple awards and is well-known for their aromatic coffee and specialty teas. The best part is – there's no GST and service charge!
Their customers absolutely love the wide selection of food and beverages at affordable prices. You'll have to experience this intimate joint for yourself to know what we mean!
Even your furkids get a treat, with healthy yet sumptuous pet menu options. Celebrating a furry friend's birthday? They serve pet birthday cakes too.
Address: 79 Brighton Crescent, Serangoon Gardens, Singapore 559218
Email: ​​happy@sunray.sg
Phone: 8909 8458
Opening hours: Mondays – Sundays, 8.30am – 9.30pm
6. The Garden Slug
Google rating: 4.2 (443 reviews)
The Garden Slug started in 2006 at Telok Kurau as a cosy little café serving rustic food in generous portions. In 2021, the establishment expanded to open a second outlet, the Garden Slug Petite, situated just 3 minutes away from Kovan MRT station. The outlet has a minimalistic design, exuding a strong zen vibe, perfect for a chill date with you and your pet.
Both cafés are pet-friendly and serve classic American cuisine with some fusion dishes inspired by Asian flavours. Get a meal for your doggo as well from their pet menu selection.
Email: justask@thegardenslug.com
Telok Kurau
Address: 55 Lorong L Telok Kurau #01-59/61, Bright Centre, Singapore 425500
Phone: 8166 8888
Opening hours: Mondays, Wednesdays and Thursdays, 11.30am – 9pm
Fridays, 11.30am – 10pm
Saturdays – Sundays and Public Holidays, 9.30am – 10pm
(Closed on Tuesdays)
Kovan
Address: 37 Lowland Road, Singapore 547440
Phone: 8948 4668
Opening hours: Mondays, Wednesdays and Thursdays, 11.30am – 9pm
Fridays, 11.30am – 10pm
Saturdays – Sundays and Public Holidays, 10am – 10pm
(Closed on Tuesdays)
7. Wooftopia Pet Café
Google rating: 4.1 (221 reviews)
Facebook rating: 4.2 (98 reviews)
Wooftopia Pet café is known for its spacious dining area decked out in chic, plush pink armchairs and irresistibly insta-worthy decor. They even have an adorable photo wall for you and your furkids to take doggy OOTDs against!
At this West-side café, you get to customise your own dogs' meals with their pets menu. They have meat selections ranging from beef to salmon and various sides, glazes and sprinkles to complete the meal. For the hoomans, get your bubble tea fix for the week alongside western dishes like truffle creamy pasta or fish and chips.
Address: 200 Turf Club Road #01-29, The Grandstand, Singapore 287994
Email: wooftopia.reservations@gmail.com
Phone: 6966 8818
Opening Hours: Mondays, 12pm – 8pm
Wednesdays – Fridays, 12pm – 9pm
Saturdays – Sundays, 11am – 9pm
(Closed on Tuesdays)
8. Bee's Knees
Google rating: 4.1 (1300 reviews)
Bee's Knees is a great stop for brunch or dinner after exploring the idyllic Botanic Gardens with your furry friends. This all-day dining cafe and bistro offers a range of dishes from light bites such as sandwiches and fruit bowls to heartier options including pasta and mains.
You can even purchase Picnic Buzzkets from them – these are fully equipped picnic sets with a picnic mat, cutleries, and food and drinks. The best part is that you can opt for a set that has treats and toys for your pet so they can join in the fun too!
Address: Multiple locations
Email: beesknees@thegarage.sg
9. TWO X FOUR CAFE
Google rating: 4.5 (77 reviews)
TWO X FOUR CAFE is a 2-storey cafe that can accommodate you and your furkid indoors and provide plenty of adorable backdrops for a mini photoshoot of your pet.
Not only do they serve comfort food for us humans, but they also have a variety of dishes for your pets like meatballs and salmon egg tarts for them to enjoy!
Address: 2 Pandan Valley, #01-210 Acacia Court, Singapore 597626
Phone: 9129 6401
Opening hours: Thursday, 12pm – 5pm
Friday, 12pm – 9pm
Saturday – Sunday, 11am – 9pm
10. Mylo's
Google rating: 4.4 (199 reviews)
All are welcome at Mylo's – enjoy a cone (or two) of seasonal gelato while your pup noshes down on some oat biscuits or pupsicles!
Situated along the Waterfront Promenade by Marina Reservoir, this is the spot to be to soak up some sun while people-watching with a treat in hand.
Address: 18 Marina Gardens Drive, #01-01, Singapore 018953
Email: info@mylos.com.sg
Phone: 6970 8553
Opening hours: Tuesday – Thursday & Sunday, 8am – 8pm
Friday – Saturday, 8am – 10pm
No Pet Menu
While these cafes don't have pet menu options, they are pet-friendly and have either indoor or alfresco seating for you and your pets to chill out.
11. Canopy Garden Dining
Google rating: 4.1 (2137 reviews)
Facebook rating: 3.1 (1549 reviews)
With a main outlet located in the heart of Bishan Park, Canopy Garden Dining is one of the more well-known pet-friendly cafés in Singapore. This is largely due to its close proximity to the popular dog run nearby.
With a varied brunch menu, you can enjoy a hearty meal here to refuel after a morning runabout with your dog. They also have outlets at HortPark and Changi City Point, if you prefer a change of scenery.
Address: Multiple locations
Email: enquiry@ditp.com
Phone: 6556 1533
12. The Coastal Settlement
Google rating: 4.2 (2002 reviews)
The Coastal Settlement is hidden in a remote part of Changi. This quaint little café in the East is decorated with vintage knick-knacks and memorabilia, designed to pay homage to the rich colonial history of its premises.
Over here, you can expect a curated selection of dishes that features a modern take on local delights like Nasi Lemak. The place is surrounded by gorgeous green fields and vast open spaces. It's great if you want to explore the area with your dog after a hearty meal!
Address: 200 Netheravon Road, Singapore 508529
Email: enquiries@thecoastalsettlement.com
Phone: 6475 0200
13. Open Farm Community
Google rating: 4.1 (1667 reviews)
Facebook rating: 3.5 (1741 reviews)
Situated among lush greenery, Open Farm Community offers seasonal fare made with produce that's freshly harvested from their garden. They're well known for their innovative dishes that are a feast for your tastebuds and eyes.
If you're bringing your dog along, the café has an alfresco dining area where you can relax with your furkid while enjoying your meal.
Address: 130E Minden Road, Singapore 248819
Email: enquiries@ofcsingapore.com.sg
Phone: 6471 0306
Opening hours: Mondays – Fridays, 12pm – 3pm and 6pm – 11pm
Saturdays – Sundays, 11am – 4pm and 6pm – 11pm
14. Kontiki
Google rating: 4.2 (487 reviews)
Kontiki is a pet-friendly café with a cosy, marine-themed design and vibe. The establishment overlooks the Kallang River and has a gorgeous view of the Marina Bay city skyline.
They serve classic American dishes such as beef short ribs, BBQ pork ribs and fish and chips. Patrons can choose to dine indoors or enjoy some fresh air at their alfresco dining area together with their furkids.
Address: 11 Rhu Cross, #01-02, PassionWave@ Marina Bay, Singapore 437440
Email: service@kontiki.sg
Phone: 6268 5225
Opening hours: Tuesdays – Fridays, 3pm – 11pm
Saturdays – Sundays, 10am – 1
15. Apollo Coffee Bar
Google rating: 4.1 (711 reviews)
A hidden gem nestled in the idyllic Serangoon Gardens' neighbourhood is Apollo Coffee Bar. The café has a light and breezy atmosphere to it, pawfect for a midday date with your pups!
Patrons have raved about their delicious meals, recommending their risottos, tater tots and burgers. The café also has a wide selection of coffees and teas for you to select from, and an adorable puppuccino so your dog won't feel left out! We'd recommend going during non-peak hours as the place is known to get pretty crowded at times.
Address: 65 Serangoon Garden Way, Singapore 555961
Email: hello@apollocoffeebar.com
Phone: 6246 3875
Opening hours: Tuesdays – Saturdays, 9am – 10pm
Sundays, 9am – 7pm
(Closed on Mondays)
16. The Bark Cafe
Google rating: 4.1 (1008 reviews)
Tucked away amongst the greenery near Changi Chapel & Museum, The Bark Cafe has a serene atmosphere that many frequent for. The outdoor-only seating cafe is pet-friendly and has a wide range of local and Western dishes to choose from.
Head down on Fridays from 7.30pm for their live performances and knock back a pint and chill with your pup!
Address: 1000 Upper Changi Road North, Singapore 507707
Email: enquires@thebarkcafe.com
Phone: 8281 2125
Opening hours: Monday – Sunday, 11.30am – 12am
17. Earlybird
Google rating: 4.4 (525 reviews)
Pet owners will be glad to know that they can enjoy Earlybird's popular Chicken & Pancakes while with their furry companions. The pet-friendly outdoor seating area is perfect for a quiet Sunday with a cup of joe and some all-day brunch items.
Address: 17 Jalan Pinang, Singapore 199149
Email: earlybirdcafesg@gmail.com
Phone: 9788 6856
Opening hours: Sunday – Friday, 9am – 5pm
Saturday, 9am – 9pm
18. Kith Café
Google rating: 4.1 (291 reviews)
The popular Kith Café offers pet-friendly alfresco dining at these outlets: Thomson Plaza, Robertson Quay, Spottiswoode, Ascott Orchard and West Coast!
Treat yourself to one of their decadent muffins or cakes, or enjoy their selection of healthy sandwiches and salads.
Address: Multiple locations
Email: enquiry@kith.com.sg
19. Wildseed
Google rating: 4.3 (3000 reviews)
The Summerhouse and Alkaff Mansion are 2 beautiful locations home to the pet-friendly Wildseed Cafe. The quaint surroundings are perfect for exploring before settling down for some pastries or classic brunch dishes!
If you prefer to be amongst nature with your pup, they also have sumptuous picnic sets available for pre-order.
Address: Multiple locations
Email: wildseed@thealkaffmansion.sg | wildseed@thesummerhouse.sg
20. Venusology
Google rating: 4.9 (36 reviews)
Formerly known as Flourish Bakehouse, Venusology is a spacious, backyard-style cafe that offers plenty of space for your pets to run around. Here, you can indulge in delicious treats like ice cream and waffles, or opt for healthier fare like a superfood salad.
The cafe has a friendly environment and many pet owners like to frequent and let their dogs mingle. They also host pet workshops and classes for owners to learn more about their pets so keep an eye out on their Instagram page!
Address: 318 Tanglin Road, Phoenix Park, Singapore 247979
Phone: 9368 9050
Opening hours: Monday – Sunday, 8am – 9pm
21. Flock Cafe
Google rating: 4.0 (706 reviews)
Tucked away in a quiet corner in Tiong Bahru, Flock Cafe is a family-run establishment known for its coffee and cocktails. The delightful outdoor area is perfect for a sunny weekend catch-up with friends and pups over some all-day breakfast items and burgers.
Address: #01-25 Tiong Bahru Estate, 78 Moh Guan Terrace, Singapore 162078
Email: ordering@flockcafe.com.sg
Phone: 6536 3938
Opening hours: Monday – Sunday, 8am – 8.30pm
22. Chanterelle Cafe
Google rating: 4.5 (81 reviews)
Located in Siglap V, Chanterelle Cafe has both indoor and outdoor seating areas that are pet-friendly. Choose from their selection of fresh bakes and acai bowls, or some bento cakes from Bob The Baker Boy!
Address: 2 First St, #01-02 Siglap V, Singapore 458278
Opening hours: Sunday – Thursday, 8am – 8pm
Friday – Saturday, 8am – 9pm
Visiting Dog Cafés in Singapore
Dog cafés are a wonderful way to spend a day out with your fur friend. You can enjoy some great food and take lots of pictures with your pup!
If you love cats just as much as dogs, you can also check out our list of cat cafés in Singapore!