Chicken broth is a type of bone broth that's been growing increasingly popular among paw parents. It's loaded with nutrients and is good for your dog's health.
In this article, we'll teach you how to make chicken broth from scratch and how you can feed your furry friend this nutritious liquid. We'll also feature some handy tips on how you can stock the extra broth.
Let's get started!
Is Chicken Broth Safe for Dogs?
Yes, absolutely! Chicken broth is packed with health-promoting nutrients and vitamins that can bring about positive health benefits to your dog.
Is Chicken Broth Good for Dogs?
Yes! Chicken broth provides a series of health benefits to dogs including:
Improved joint health
Chicken broth is made using bones and cartilage, making it an excellent source of collagen and gelatin, which are known to promote joint health. https://www.plainsarahjayne.com/sbobet-indonesia/
Liver and kidney detoxification
Chicken broth is also rich in glycine – an amino acid that can help with detoxing your dog's kidney and liver.
Better digestive health
Glycine found in chicken broth can also help restore your dog's intestinal lining and protect it from a leaky gut.
Improved appetite
Chicken broth can be used to stimulate your pet's appetite when he's sick. It's a healthy and flavourful addition to your dog's meal that can help him to eat again.
How to Make Chicken Broth for Dogs
Making chicken broth for your pet at home is relatively fuss-free. It uses a couple of basic ingredients that you can easily find and can be done in a few simple steps.
Check out our recipe for homemade chicken broth below!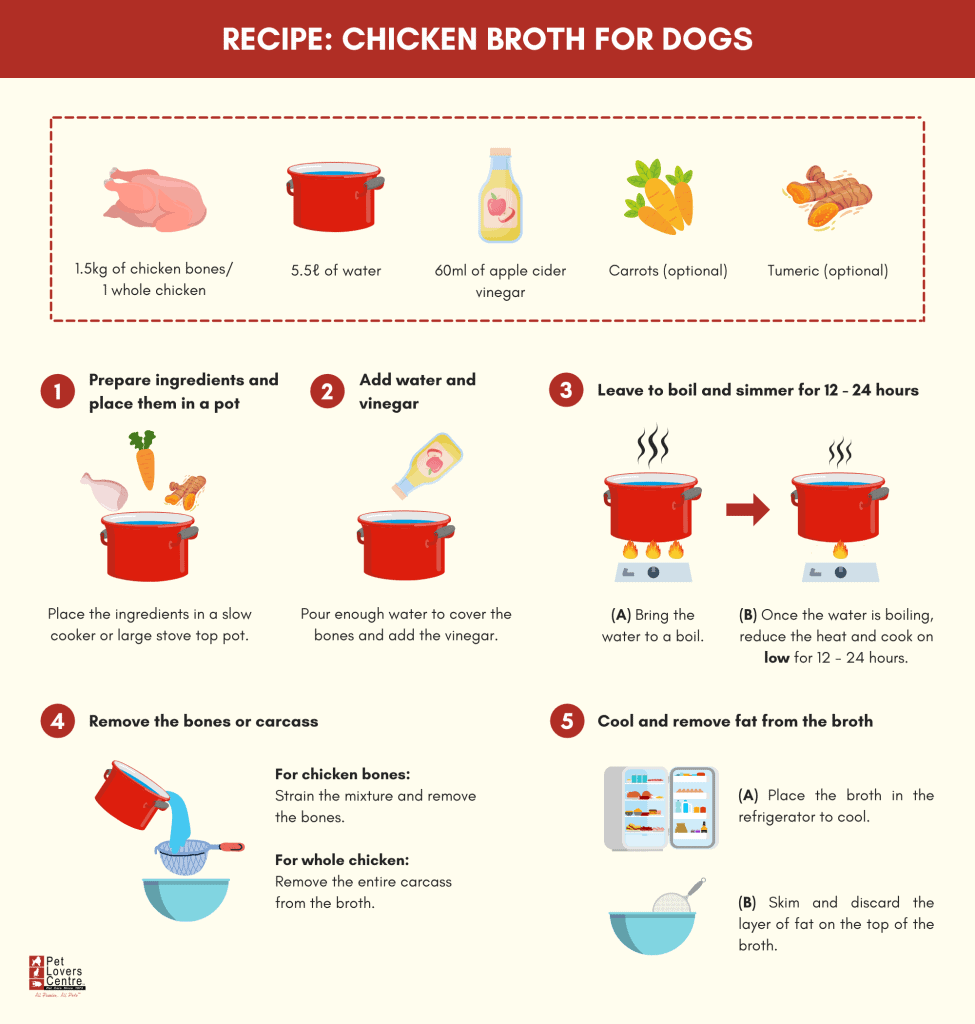 Ingredients:
• 1.5kg of chicken bones or 1 whole chicken
• 5.5ℓ of water
• 60ml of apple cider vinegar
• Carrots (Optional)
• Turmeric (Optional)
Step 1: Prepare ingredients and place them in a pot
Take the chicken bones or whole chicken and place them in a slow cooker or large stovetop pot. If you're using carrots and tumeric, you can cut them into smaller pieces and add them to the pot too!
Step 2: Add water and apple cider vinegar
Once your ingredients are in the pot, add enough water to cover the bones. Next, add the apple cider vinegar.

Note!
Apple cider vinegar is an essential part of the recipe. It helps to extract the vital nutrients from the chicken, ensuring that the broth is packed with collagen.


Step 3: Leave to boil and simmer for 12 – 24 hours
After all your ingredients are added to the pot, bring the water to a boil.
Once the water is boiling, reduce the heat and allow the mixture to cook on low for 12 – 24 hours.

Note!
Leave the broth to cook for 12 hours if you're cooking the broth on a stove, 24 hours if you're using a slow cooker.


Step 4: Remove the bones or carcass
Once the broth is ready, strain the mixture and remove the bones. If you've used a whole chicken, remove the entire carcass.
Note!
This step is crucial as the leftover
bones
are a choking hazard and may crack in your dog's mouth, causing a splinter.
Step 5: Cool and remove fat from the broth
Store the broth in a container and place it in the refrigerator to cool. Finally, skim and discard the layer of fat on the top of the broth once it's formed.

Note!
Removing the fat from the broth is important as too much fat is unhealthy for your dog.


How to Feed Your Dog Chicken Broth
Serve the chicken broth as it is
You can leave the chicken broth in his bowl and allow him to consume it as he would water. This helps to increase your pup's liquid intake, ensuring that he stays well hydrated.
Pour the chicken broth over kibble
While kibble is great on its own, adding chicken broth to it can help further enhance its taste. This is a common technique used by pet owners to deal with their furry friends who are fussy eaters.
Also, the addition of broth to the dry dog food can also soften it, making it ideal for pets who suffer from dental issues.
Give him chicken broth popsicles
You can freeze the chicken broth in popsicle moulds and give them to your pet to help him stay hydrated on a hot day.
These popsicles are also the perfect treat to help your furry companion cool down after an afternoon of fun in the sun.
Make a chicken broth slushie
After you've frozen the chicken broth, you can blend it until you achieve a slushy consistency before feeding it to your dog.
How to Store Excess Chicken Broth
Freeze the chicken broth
Freezing chicken broth allows you to store it for up to 6 months. You can choose to freeze your broth in
• ice cube trays,
• ziplock bags,
• plastic containers or
• glass jars.

Note!
If you're storing the liquid in a container or jar, ensure that you don't fill it to the brim. This gives the liquid space to expand and reduces the risk of the container breaking in the freezer.


Store the excess in the fridge
Another alternative is to store the extra broth in your fridge. However, the chicken broth can only stay fresh in the fridge for about 4 – 5 days. As such, it's important to consume the liquid as soon as possible.
Frequently Asked Questions
What ingredients should I avoid adding into the chicken broth?
You're advised to avoid adding the following ingredients:
• Spices
• Onion
• Garlic
• Artificial colouring
• Artificial flavouring
It's also best to avoid adding excessive amounts of sodium to the broth.
How much chicken broth can I feed my dog?
The standard recommended serving size of chicken broth for a dog is 30ml of broth for every 4.5kg of weight.
You may give your pet up to 2 servings each day and you can choose to make it a daily or frequent addition to his meal.
If you're feeding your dog chicken broth for the first time, we advise starting with 1 serving of liquid per day to ensure that it's suitable for his digestive system. You can begin adding a 2nd serving of broth to his diet once you're sure that it's suitable.
Can I give my dog store-bought chicken broth?
Yes, store-bought chicken broth is perfectly safe for your dog. However, do ensure that you check the ingredients before feeding the broth to your pet.
Avoid broths that contain high levels of salt, preservatives or onions as these ingredients are harmful to your dog. As a safe bet, stick to organic, non-GMO chicken broths.
Do I need to dilute chicken broth for my dog?
No, if you're using homemade chicken broth without any salt, spices, flavourings or colourings, you don't need to dilute the liquid before serving it to your pup.
Feeding Your Dog Chicken Broth
Chicken broth is a healthy and delicious addition to your dog's meals. Try out our recipe and let us know how it goes!