Are you planning an overseas trip but worried about leaving your feline friend behind? With cat boarding centres, you won't have to worry about your pet's welfare while you're away. These boarding centres offer a safe and comfortable environment where your pet will be entertained and cared for.
In this article, we'll explore some licensed cat boarding services in Singapore and share the answers to some of your frequently asked questions!
Note: To receive a license from the Animal & Veterinary Service (AVS), pet boarding centres must pass mandatory training on pet welfare and animal management (conducted by selected course providers).
Cat Boarding Services in the Central Region
Looking for a cat boarding centre in the central region of Singapore? Here are some licensed facilities you can consider!
1. Catpurra
Price: From $30 per night
Catpurra offers 3 nature-inspired room types – lava, cave and maze. Each room type is designed and decorated differently to give your feline friend a unique experience. From exploring lush greenery to traversing rocky terrains, your cat is bound to have an unforgettable stay.
To set your mind at ease, the team at Catpurra will send you updates on your pet during his stay. Moreover, the cabin will be sanitised daily so your cat will be kept free from germs and bacteria.
| Room type | Number of cats | Number of tiers | Price per night |
| --- | --- | --- | --- |
| Lava | 2 | 2 | $30 |
| Cave | 2 | 2 | $35 |
| Maze | 2 | 4 | $40 |
Address: 767A Geylang Road, Singapore 389664
Phone: 8189 0390
Email: [email protected]
2. Little Kats
Little Kats was founded by a cat rescuer and provides both cat boarding and daycare services. They have private rooms for up to 2 felines and spacious premium rooms for up to 4 felines. Aside from boarding and daycare services, Little Kats also allows cat lovers to play with rescued cats for just $18 per pax!
Address: 717 North Bridge Road #02-01, Singapore 198685
Phone: 8822 9719
Email: [email protected]
3. FelinCity by Mewtants & Woofs
While Mewtants & Woofs started off providing pet grooming services, they have since expanded their offerings to provide cat boarding services. Known as FelinCity, this outlet by Mewtants & Woofs offers cat-only boarding and grooming services.
Each room is fitted with adorable wooden furniture, including a cat bed shaped like the ones we humans use!
Address: 45A Lorong 6 Geylang, Level 1, Singapore 399200
WhatsApp: 9657 0171
4. Ryokan Genetique
Price: From $55 per night
Ryokan Genetique was founded by an animal lover with a dedication to animal welfare. His goal is to provide personalised care to every feline guest at the boarding centre and to create a safe and comfortable environment where cats can play and rest.
To ensure the health and safety of your pet, the facility is cleaned and disinfected daily. Additionally, daily updates with photos and videos of your cat will be sent to you so you can have peace of mind while you're away!
| Room type | Room size | Number of cats | Price per night |
| --- | --- | --- | --- |
| Deluxe suite | 80cm (H) x 147cm (L) x 110cm (D) | 1 | $55 |
| Premium suite | 150cm (H) x 200cm (L) x 100cm (D)​ | 2 | $100 |
| Villa suite | 260cm (H) x 120cm (L) x 160cm (D) | 2 | $150 |
| President suite | – | 8 | $500 |
Address: 101 Desker Road, Singapore 209623
Phone: 8617 0470
Email: [email protected]
5. The Wagington
Price: From $38 per night
All pawrents would like to treat their pets like royalty, and what better way to do so than a luxury pet hotel like The Wagington? You can choose from 3 different room types – Cabin, Imperial and Royal – all equipped with air conditioning, soothing classical music and quality litter.
During your cat's stay, the team at The Wagington will send you weekly updates on your pet. Do note that extra charges will apply if you'd prefer more regular updates.
Room type
Room size
Number of cats
Price per night*
Cabin Feline Suite
0.84 sqm
1
$38
Imperial Feline Suite
5.12 sqm
1
$108
2
$136
3
$164
4
$192
Royal Feline Suite
6.97 sqm
1
$128
2
$156
3
$184
4
$212
*Prices differ during peak season. Kindly refer to the website for accurate prices for the duration of your cat's stay.
Address: 27B Loewen Road, Singapore 248850
Phone: 6471 1689
WhatsApp: 9638 6347
Email: [email protected]
Cat Boarding Services in the East
For cat boarding services in the East, check out these facilities below!
6. Mutts and Mittens
Price: $50 per night
Operated by a team of animal lovers, Mutts and Mittens is a pet boarding centre with a heart for animals in need. A part of the facility is home to rescued dogs and cats waiting for adoption, and the proceeds from pet boarding are used to support these animals.
When you board your feline friend at Mutts and Mittens, you can expect your cat to enjoy his stay in an air-conditioned space. The room is fitted with furniture such as a floating bed and scratching post, as well as some climbing shelves, so your cat can have a fun and comfortable experience.
Address: 412A Joo Chiat Road, Singapore 427637
Phone: 6583 7371 | 6583 7372
WhatsApp: 8121 7557
Email: [email protected]
Cat Boarding Services With Multiple Locations
These cat boarding centres have multiple outlets across Singapore. Learn more about their facilities below and find the one nearest to you!
7. Nekoya Cat Hotel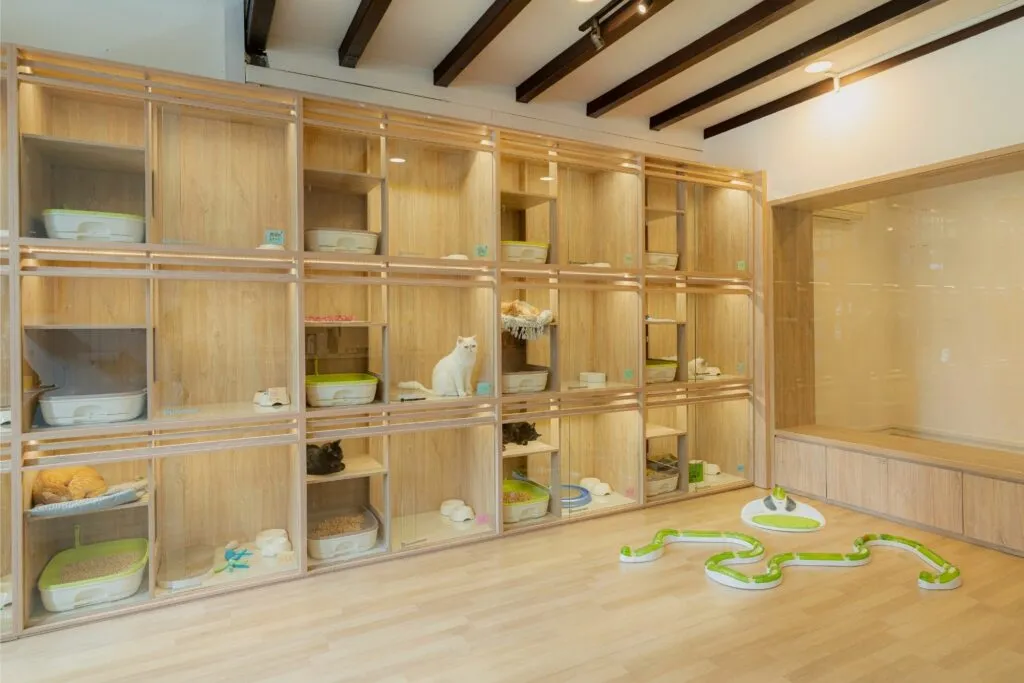 Price: From $39 per night
Founded in 2016, the Nekoya Cat Hotel is a boarding centre and daycare facility exclusively for cats. The team at Nekoya is committed to providing a superior boarding experience for all felines and peace of mind for all pawrents. They have a total of 3 outlets, each located in the West, North-east and Central regions of Singapore.
Outlet
Room types
Room size
Price
Kampong Bahru
Classic Cabins
1.2m long
From $39
Premier Suites
3.8m2
King Albert Park
Classic Cabins
1.2m long
From $44
Premier Suites
3.8m2
Jalan Kayu
Deluxe Cabins
1.2m long
From $48
Double Deluxe Cabins
2.4m long
Address: Multiple outlets
Phone: 6926 6470 (Kampong Bahru) | 6969 6278 (King Albert Park) | 6972 9845 (Jalan Kayu)
8. The Collar Club
The Collar Club is the one-stop solution for your pet care needs. They offer a wide range of services for both dogs and cats including grooming, daycare and boarding services.
Their boarding facilities are supervised round the clock so you can rest assured that your feline friend is safe at all times. Additionally, The Collar Club has partnered with a nearby veterinary clinic so your pet can receive timely medical treatment during his stay if necessary.
Address: Multiple outlets
Email: [email protected]
FAQs About Cat Boarding in Singapore
On average, cat boarding services in Singapore cost anywhere between $30 and $130 per cat per night. The price may vary depending on factors such as the size of the room and the number of cats staying in the room.
Here are some tips to help you get your cat ready for boarding:
Let your cat get familiar with the boarding centre
Your cat may feel uncomfortable in a new environment. Before his extended stay at the boarding centre, you may want to consider a short trial stay first. This will allow him to get adjusted to the boarding centre, so he can eventually feel more comfortable and at ease during the extended stay.
Check that your cat is sterilised and vaccinated
Most, if not all boarding centres will require your cat to be sterilised (if he's at least 8 months old) and vaccinated. Hence, before boarding your cat, visit the vet to check that your cat has been sterilised and has all the necessary vaccinations.
Prepare your cat's food supply
To avoid cases of upset stomachs, many cat boarding centres don't provide food for cats during their stay. Before boarding your feline friend, take some time to prepare his food supply and avoid making any sudden dietary changes.
Bringing a couple of familiar items such as toys, a blanket or a brush can help your cat adjust to the new environment more easily.
If your cat is uncomfortable staying in an unfamiliar place, you can consider these alternatives:
Ask family members or friends to be a sitter for your cat

Engage a professional

pet sitter

to take care of your cat while you're away