Aristopet is a long-standing brand committed to helping pet owners protect their pets and household. Over the years, they have worked hard to manufacture cost-effective, self-administered products to address common pet ailments and unwanted behaviour.
In this article, we'll be sharing about the brand and taking you through some of the recommended products for parasite control and preventive care to keep your fur babies safe!
Brand Story
Aristopet is one of Australia's oldest brands in the pet care industry. Founded in 1958, their belief is that no pet should suffer. Thus, they strive to ensure that every pet gets the care they deserve.
Aristopet understands that pet care can be overwhelming and expensive, and that's why they've created a range of affordable home healthcare products for pets. This includes flea and tick treatments and deworming medicine.
Flea and Tick Treatments
Fleas and ticks can infect your fur kids; they can also plague humans with bacteria that cause diseases such as Lyme disease.
Some signs that your dog may have been infected by these parasites include excessive scratching, lethargy, and thinning of hair in areas where they're over-licking. Ticks and fleas on cats are also very common, and you may observe similar symptoms.
Read on to discover Aristopet's popular flea and tick treatments!
Complete Flea and Tick Spot On
This water-resistant flea and tick treatment is effective in killing all flea stages for at least a month. It also prevents paralysis ticks for up to 2 weeks, plus brown dog ticks and biting lice for up to 1 month.
The topical treatment comes in a tube form with a nozzle for precise administration. Simply part your dog's fur and apply it directly to the skin. The treatment has variations for canines of all sizes, such as small dogs up to 10kg, medium dogs between 10 – 20kg and more.
Flea and Tick Spray for Dogs and Cats
This Flea and Tick Spray is a highly effective product designed to control fleas and adult brown dog ticks. The reliable formula contains natural pyrethrins that work to kill fleas rapidly from head to tail. This gentle-acting and quick-drying spray is safe for use on dogs, puppies, cats, and kittens as well as on their bedding.
In addition to its insecticidal properties, this spray also contains tea tree oil, leaving your pet with a shiny coat and calming scent.
Flea and Tick Shampoo for Dogs and Cats
This gentle shampoo contains natural pyrethrins from chrysanthemums, which are highly effective in combating fleas and adult brown ticks. In addition to the pyrethrins, eucalyptus oil is also included in the formula to provide extra protection against these pests.
For pet owners who are concerned about tick control, this shampoo can be used both normally and as a spot treatment. Lather the shampoo all over your pet's coat before rinsing and drying off. Next, apply a small amount of undiluted shampoo directly on any ticks present to kill them.
To prevent reinfestation, it's recommended to also use the Flea and Tick Spray on your pet's bedding and surrounding areas on top of using the shampoo.
Flea and Tick Spray plus Insect Growth Regulator for Dogs and Cats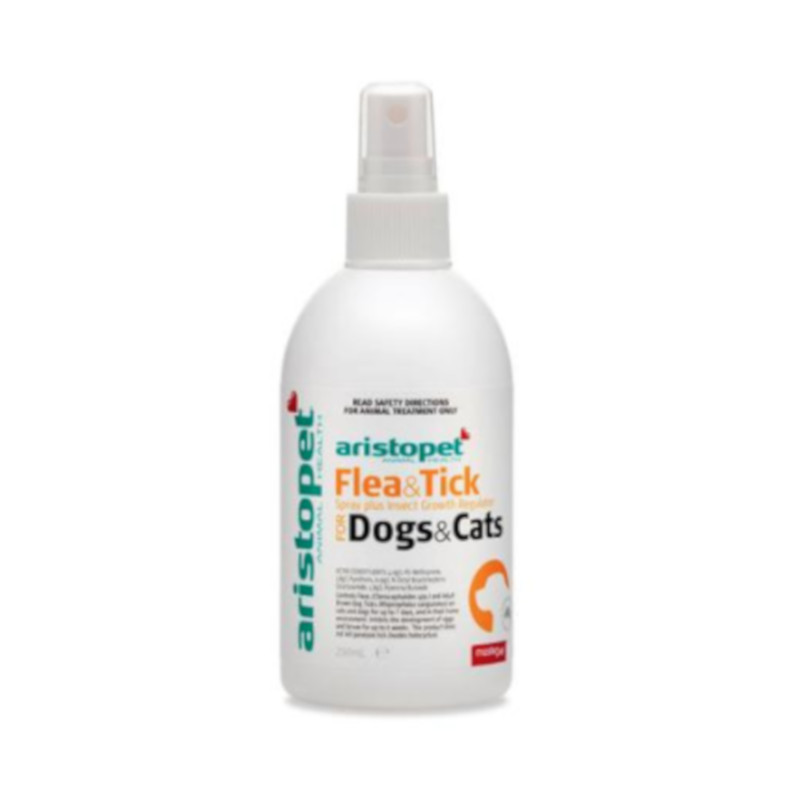 If you're looking for a solution that'll eliminate these pesky parasites for good, this Flea and Tick Spray plus Insect Growth Regulator may be the product for you.
It treats fleas and ticks on cats and dogs for up to 7 days. It also inhibits the development of eggs and larvae for up to 6 weeks, giving your pet lasting protection from these pests.
The combination of R5-Methoprene, pyrethrins and N-octyl bicycloheptene dicarboximide creates a safe and effective pesticide that can be used on your pet's bedding and affected areas.
Flea Powder for Dogs, Cats, Puppies and Kittens
Flea powder may be a better option for owners who tend to see their pets licking spots that have been sprayed down with flea spray. Regular application of the powder can help to control scratching and loss of fur due to fleas.
This product can be used directly on your pet or it can be sprinkled on areas that your pet frequents like their bed or cage.
Deworming Medicine
Pets are susceptible to various types of worms, some of which can be harmful to their health. Common parasitic worms that affect cats and dogs include roundworms, hookworms, whipworms, and tapeworms.
These worms can cause a range of symptoms, including diarrhoea, vomiting and weight loss. At Aristopet, they carry a selection of deworming medicine to tackle these parasites and keep your pet healthy.

Note!

When deworming your pet, it's crucial to weigh the product carefully to ensure that he receives the appropriate dosage. An insufficient dosage may fail to completely eliminate the parasites, while overdosing may cause weakness, vomiting, seizures, and potentially death.


Worming Syrup for Puppies and Kittens
It's common for mothers to transmit roundworms to their puppies or kittens prenatally or through their milk. Large tablets may be difficult for puppies and kittens to swallow so worming syrup may be easier for them to consume.
All Wormer Tablets
These All Wormer Tablets can help to treat roundworms, hookworms, whipworms, tapeworms and the hydatid tapeworm. They're best suited for puppies and dogs that weigh up to 40kg.
For bigger dogs, Aristopet also has an All Wormer for Large Dogs which offers a higher dosage per tablet. As with all treatments, it's always best to consult a vet if you're unsure about administering medication!
Why We Recommend Aristopet Healthcare Products
Their passion for pet healthcare and well-being has made Aristopet a trustworthy name in the industry and among pet parents.
Besides carrying effective and affordable treatments for common parasites like ticks, worms and fleas, Aristopet also carries a wide range of products like vitamins and laxatives. Shop the whole range of products from Aristopet at Pet Lovers Centre today!